Last update: 4 months ago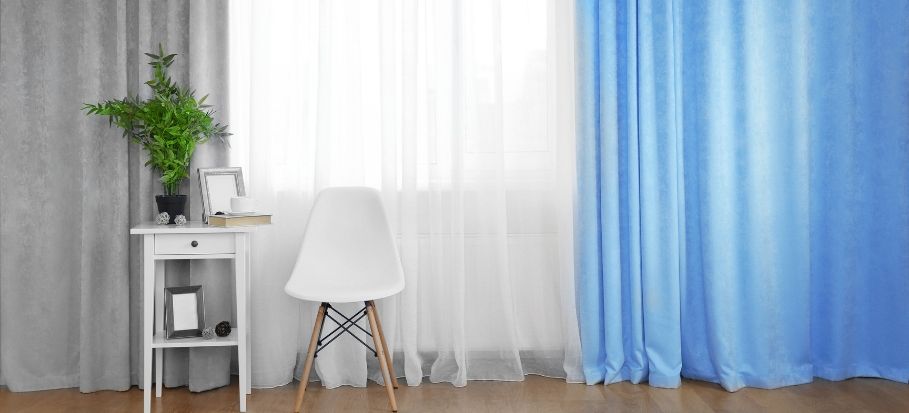 Many folks often neglect their curtains when cleaning their house simply because they don't look dirty. However, it's been proven that drapes hold a lot of dust and grime that can seriously affect the air quality in your home. So for your convenience, we have made this useful guide on how to clean curtains at home, no matter the material.
How to clean curtains at home
Before you start, you need to do a few things.
Check the labels for the appropriate cleaning methods
If you don't want to damage your curtains permanently, check the label for the recommended washing method.
For machine-washable curtains, follow the manufacturer's instructions carefully. Use the delicate cycle and cold water, and don't overload the washing machine. The panels need room to rotate freely during the wash cycle.
Some materials, such as silk or velvet, are too delicate to be put in the washing machine, so they need to be hand-washed. For hand-washable curtains, you can wash them in the bathtub, a large tub or a large sink. Use cool water and mild soap, and rinse thoroughly.
Others are sturdy and will probably survive most DIY cleaning techniques. Finally, there are also the ones that can only handle the gentle dry cleaning method.
To test whether your curtains are washable, perform the following steps:
Wet a small section of the fabric with cool water.
Apply detergent and rub gently. Allow the fabric to sit for one minute.
Rinse the area thoroughly with cool water.
Gently squeeze or blot to remove any excess moisture.
Let the material air-dry completely.
Compare the test patch to the rest of the curtain. Look for any changes in colour, texture, or size. If the test patch has not changed, the curtain is washable, and you can proceed without any doubts.
Prepare your curtains for the washer
Before you wash your curtains in the washing machine, it's a good idea to give them a pre-wash. You can do this by vacuuming or shaking off as much dust as possible so that nothing clings to the curtain's fibers during the washing process. Doing this will ensure that your curtains come out clean and pristine.
How to clean curtains in the washing machine
Now, let's begin with the safety tips for cleaning your curtains in the washing machine.
Spot-test your curtains before you put them in the washing machine. Testing the fabric is essential if you are in any doubt about the colourfastness of your curtains. Apply a small amount of water and the detergent on the small section on the back of the curtain, rinse and let it dry out completely, so you can see any changes. To be on the safe side, you can use a colour catcher dye trapping sheet to prevent fabric dye bleeding. Also, washing them with other items is not a good idea.
Remember to remove all hardware before putting them in the washing machine. This way, you preserve the fabric from damage, the hardware, especially if the hooks are plastic and can get broken and lastly, your washing machine.
You can use a mesh bag for delicate curtains such as lace and sheer. Choose a low-temperature or cold water cycle and use a small amount of laundry detergent.
Keep in mind that with most drape materials, treating them with hot water will often result in shrinkage.
Check the manufacturer's recommended temperature for washing and drying if you have a dryer. We advise you always to put them on the delicate cycle to be on the safe side. For the finer materials, you choose a slow spin with cold water.
We recommend you use the washing machine only for your lightweight drapes. The heavy ones retain water for much longer, and the rinse cycle does not help at all.
We recommend you use the washing machine only for your lightweight drapes. The heavy ones retain water for a much longer period of time and the rinse cycle does not help at all.
Curtains can either be air-dried or tumble-dried on a low setting. Over-drying curtains is a common laundry mistake that can be easily avoided by taking them out of the dryer while they are still slightly damp. Remove your curtains from the clothes dryer when they are about 95% dry to avoid setting in wrinkles. By doing this, you will also make any necessary ironing much easier.
Can you wash "dry clean only" curtains
Dry clean only curtains should, ideally, only be dry cleaned. However, there are times when washing them at home may be preferable. Reasons for this could include wanting to save money or time. Whatever the reason, there are ways to wash your dry clean-only curtains safely at home. Here is what to do:
Choose the setting for delicate fabrics;
Select the cold water setting;
Use a small amount of detergent;
Wash the curtains one by one;
Hang dry them and avoid placing them near heat sources.
How to hand wash curtains
Hand-washing is recommended for delicate fabrics and for the times you are not sure if your curtain will survive a cycle in the washing machine. It's surely the safer option for all kinds of drapes but it is the harder one to complete, as well. Here are some general steps to help when you need to clean your drapes.
Invest in a gentle laundry detergent or soap that is made just for hand-washing fragile materials such as silk and lace.
Carefully read the instructions of the chosen detergents as different kinds are used in different concentrations.
Wash the curtains only with cold water and do not use any hard brushes or other tools that might damage the fabric.
If your drapes are too heavy, consider dry cleaning or steam cleaning them. The drying time is a lot longer as they soak up a lot of water and detergent.
Air dry your freshly cleaned curtains.
How to dry clean your curtains
As we've mentioned above, delicate and bright-coloured curtains are best dry-cleaned. If your curtains are made from velvet, velour, chenille, tapestry, brocade, wool, polyester or silk, they should be dry-cleaned. They can shrink, lose their colour and get damaged by almost any wet-washing method, so you always need to be super careful when treating those fabrics. The same applies to interlined curtains.
This is why we do not recommend dry cleaning curtains at home, as it's pretty easy to mess up and permanently damage your drapes. However, if you have confidence, here is what you can do.
Get a suitable "dry-cleaning-at-home kit" with instructions.
Test the fabric to see if it's colourfast. If the colour fades away, you shouldn't treat the rest with the same chemical. Just put a small dose of the chosen detergent on a small inconspicuous area.
Once you have found the right kit for your curtain, follow the instructions carefully, and the same as with the hand-washing method, do not use any abrasive brushes.
Clean only one curtain at a time.
When you are done, hang them away from direct sunlight or any heat source.
Do NOT dry them in the dryer, or the liner will most likely shrink.
If you need to iron them, always put a white towel, blanket or a t-shirt on top. Never iron the drapes directly.
How to clean curtains without washing them
If taking down your curtains is not an option, you can clean them by vacuuming or steam cleaning them and here is how to do both.
Vacuum clean your curtains
Vacuuming your curtains is a great weekly routine to keep them in a good condition. You can also use a lint roller to remove any dust and debris. This will help you avoid just moving the dirt around. Use a vacuum with a long upholstery or soft brush attachment for best results. Be careful not to damage delicate fabrics like lace or netting, and make sure to get around the curtain rings and pole.
How to clean curtains with steam cleaner
If you have a steam cleaner, you've probably noticed that it has a special attachment that makes steam cleaning curtains at home an easy task to complete. You can use it for drapes that are suitable for machine washing but cannot fit in the appliance or are difficult to remove from the rails.
Check what the recommended temperature is for treating your curtains and adjust the steam cleaner to the appropriate setting.
Prepare the steamer and use the right nozzle.
Test the fabric to find the right distance for using the steamer to avoid over-saturating your fabric with steam.
Gently run the brush from the top to bottom of the curtain, holding the hose upright so that the dirt is drawn out of the fabric. Be careful not to press too hard against the window as you brush, as this could damage the fabric.
Repeat the action on the back of the curtain
Once done with both sides, let the curtains to air dry.
If there are any stubborn stains you need to take care of, treat them separately. We recommend that you use special spot remover for the type of fabric you are dealing with.
Drying your curtains the right way
Allowing the right amount of drying time in the right conditions is a crucial aspect of the cleaning process of your drapes. Otherwise, if not careful, the risk of your curtains developing mould and musty, heavy odours is a lot bigger.
Here are some general tips you can follow to ensure that you are drying your curtains the right way:
The best place to dry your curtains is, of course, outside on a dry, sunny day, located somewhere with a nice breeze that would speed the drying even more.
A lot of fabrics lose their colour when placed under direct sunlight, so it's best to avoid such areas and put them in partial shade.
You can machine dry your curtains but only if the fabric permits it. Check the label and see what the maximum temperature that they will withstand should be and adjust the setting accordingly.
If the drapes are prone to getting wrinkled, take them out of the appliance just a little before the cycle is complete and leave them to air dry.
If you don't have space outside your home to dry the drapes, place them in a well-ventilated room and open as many windows as possible. Turn on a couple of fans to speed up the whole process.
We don't recommend that you dry heavyweight curtains inside. They can develop mould, where the spores spread onto other furniture. This will lead to a number of problems, such as a nasty odour that will be extremely hard to get rid of, health issues and many more.
Maintenance after cleaning
Truth is that cleaning all of your curtains at home is a tedious task that often times takes up a whole day to complete. So naturally, you do not want to spend every weekend doing so. Luckily, there are plenty of useful maintenance tips that will surely reduce the need to clean your curtains that frequently.
Invest in a dehumidifier. It will surely reduce the risk of your curtains developing mould and will overall improve the quality of the air in your home.
Curtains absorb a lot of smells, especially when you are cooking and if you smoke indoors. Our advice is to draw out the curtains and keep your windows open whenever it's possible so that the room is always ventilated and all of the bad smells evaporate more quickly.
Every two weeks or so, you can take down your curtains and just hang them outside to air.
Whenever you are vacuuming your house, go over your curtains, as well. Of course, by using the appropriate attachment.
If you don't have a special setting for curtains, you can do the following. Give them a good shake and a good beat so that all of the loose dirt falls off. Leave it to settle for a couple of minutes and after that vacuum the area under them.
How often should curtains be washed?
You should wash your curtains every three to six months to keep them clean. A weekly dust removal routine will help you go longer between washings. Eliminating dust, dirt, pet hair, and cobwebs in your curtains will also make your home smell fresher, look cleaner and eliminate allergen problems. In addition, you'll be able to spot stains more easily and take care of them before they become bigger problems.
Need some professional help?
Maybe you don't want to risk damaging your drapes, you cannot determine what the exact material that they are made of is and you're not sure how to treat it or you simply don't have the time to take care of them properly.
In that case, you can always count on the professionals of Fantastic Cleaners to do the hard job for you. The trained technicians are able to identify the best way of treating your curtains, regardless of what type of material they are made of. They have experience in cleaning both synthetic and mixed fibres or delicate, natural materials that need a gentle touch.
When in doubt, call Fantastic Cleaners and enjoy quality results without lifting a finger!
Need a Cleaner?
Enter your postcode to view our rates and availability in your area.
Takeaways
Make sure that the vacuum attachment you are using is designed for cleaning curtains! Note that some upholstery attachments can damage your drapes permanently.
You can vacuum your curtains every time you are doing a general clean of your house. However, it's always good to wash them at least once every two months.
No matter the material or the type of cleaning method you choose to use, always test the detergent beforehand. Sometimes, you cannot predict how the drapes will react to a certain chemical even if the label says it's okay.
Image source: Shutterstock/Africa Studio