October 25th, 2017
Fantastic Team
How to's
Last update: 6 months ago
Ever since we, as a species, mastered the art of indoor plumbing, the humble lavatory has morphed from a place people go to do the unmentionable to a quiet refuge from the daily grind. No longer do we have to squat precariously over a hole in the floor or pay a visit to the perpetually cold outhouse, the glory of the porcelain bowl supports us during our best and worst times.
This is why it can be upsetting and slightly guilt-inducing when you are greeted with the sight of a colourfully stained toilet bowl upon lifting the seat. With this guide and a little bit of effort, you won't have to be faced with such a sight and you won't have to listen to the shrieks of horror and disgust when guests use your toilet.
What is limescale?
Limescale (or calcium carbonate) is brought into our homes by water which has previously passed through soft rocks, such as chalk and limestone. As the rainwater travels through these soft rocks it picks up some of the minerals held within. This is how it becomes 'hard' water. Although all tap water in the UK has to pass through multiple filtration systems, the minerals are quite stubborn. As such, the 'hard' water travels through our pipes, depositing limescale in our taps and appliances.
You will recognise limescale build-ups as the powdery white substance which appears on taps, shower heads, walls, mirrors, and any other surface within splashing distance of the sink. In the toilet bowl, limescale rears its ugly head as brown/orange/pink streaking stains.
Why limescale must be removed?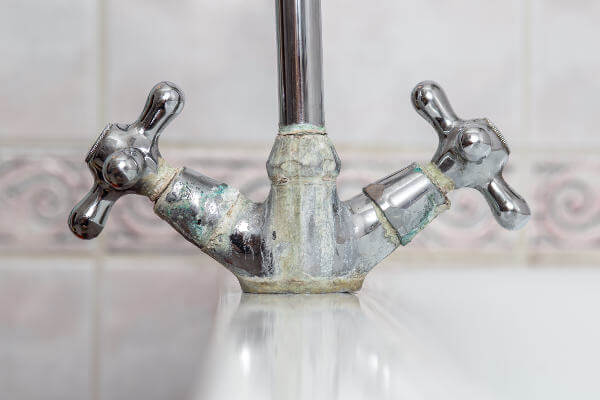 Shutterstock / By Losonsky
The biggest reason people have for removing limescale is that it looks unhygienic and terrible, especially when the toilet bowl is heavily stained. Despite this being important to us, the visual effect is not an issue in the grand scheme of your plumbing. The real danger posed by limescale is, as deposits build up they slowly restrict the flow of water in pipes, taps, shower heads, kitchen appliances such as dishwashers, and your toilet.
A restricted water flow means that your appliances cannot wash clothes and dishes properly, it will be harder to wash, and the toilet may not flush properly. It is easy to see how this could affect the hygiene of your home.
Need a domestic cleaner?
Enter your postcode to view our rates and availability in your area.
Limescale removal myths
As with most cleaning tasks, there is a multitude of myths surrounding the removal of limescale with home remedies. The two most popular involve using cola and bleach, we decided to test them out so you don't have to.
Cola – The myth states pouring a large bottle of cola into the toilet bowl and letting it sit overnight, after removing the water, will remove any limescale deposits. The idea is that the acid in the cola will dissolve any limescale it comes into contact with, our only result was a more cola coloured limescale stain.
Bleach – Common bleach is a powerful household helper, it can remove tough stains and it kills pretty much everything. It is reasonable to assume that bleach would be particularly useful for removing limescale, however, all it does is lighten the stains. So while your toilet may look clean it is still encrusted with limescale, it's just harder to see.
How to clean limescale with vinegar
While you can buy a variety of specially designed toilet cleaners to remove the unsightly limescale stains, you can achieve the same result with a bottle or two of white vinegar and some elbow grease. The acidic nature of vinegar is perfect for softening and lifting limescale and it is nowhere near as expensive as a commercial toilet cleaner.
Pour one litre of undiluted white vinegar directly into the toilet bowl, being sure to pour it around the sides of the bowl.
Let it sit for three-four hours.
Scrub the toilet bowl with more white vinegar.
Flush the toilet to rinse away the stains and residue.
Repeat until the toilet bowl is clean and sparkling.
How to clean limescale with sandpaper
From time to time you may encounter a toilet with limescale stains so stubborn you consider just replacing the toilet, you tried commercial cleaners and vinegar but neither managed to shift the embarrassing limescale build-up. Don't smash the toilet in a cleaning rage just yet, there is still another trick to try.
It may not be pleasant or enjoyable, but you can remove limescale with the help of some sandpaper. Every home improvement store will carry a selection of sandpaper of varying grains, from fine to coarse. We recommend buying two types, the first should be a medium grain to remove the majority of the limescale and its stain, the second type should be fine grain to finish removing the limescale.
Start with the medium sandpaper and gently rub the limescale build-up and stain.
Rub until the majority has been removed, don't press too hard though or you may scratch the bowl.
Next, use the fine grain sandpaper to gently buff the rest of the build-up and stain away.
Flush the toilet to rinse away the residue.
Clean the toilet as you normally would.
So there we have it, your guide on how to remove limescale from your toilet. Stick to using commercial products, white vinegar, or sandpaper for the best results or opt for professional cleaning service. With your limescale-free toilet, you can truly feel like royalty when on your throne.
Book a slot with a cleaning expert?
Enter your postcode to view our rates and availability in your area.
Did we miss anything? Do you have any tips for removing limescale? Let us know in the comments below or give us a shout on social media!