Last update: 4 months ago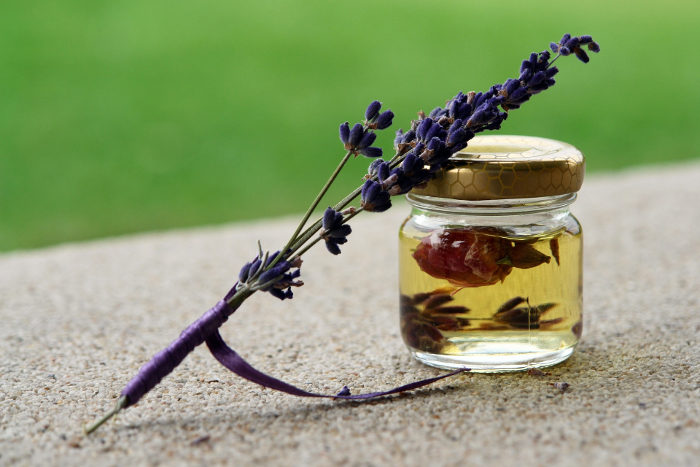 Natural cleaners are an affordable and easy way to keep your home free from harsh chemicals while bringing back the freshness of your home. So what is the best homemade kitchen cleaner? How can I make my own natural cleaner? Here are some tips you should keep in mind when preparing homemade natural cleaning products.
How to use essential oils for cleaning
Essential oils are natural degreasers and have antibacterial properties. Most of the oils protect against bacteria, mould and viruses, which makes them an excellent addition towards your domestic cleaning product army.
Tea tree oil – You can use it in the kitchen or the bathroom by adding it to the dishwasher or laundry detergent.
Eucalyptus oil – Especially effective during the winter. You can add it to the laundry detergent since it has the ability to kill dust mites that might lurk in your blanket.
Lavender oil – Lavender oil has a gentle flavour and has been used in clothes hangers for centuries because it chases off moths. Pour either in the drier or the drawers – it will spread its sweet aroma all around. Adding it to water to wash fruits will induce a pleasant flavour, too.
Lemon oil – it is a natural cleaning product and a perfect fit for rustic furniture. Mix it with a tiny bit of olive oil and wipe it with a clean towel. This will give the furniture a strong shine.
The best natural recipes for homemade cleaning products
Ironing water – add 15 drops of essential oil to 80 ml of distilled water.
Clothes drawer freshener – add one drop of lavender oil on a piece of cotton and leave it inside the drawer. The lavender aroma will relax you, and chase off moths and other insects.
Garbage bin freshener – 2-4 drops of lemon essential oil on the bottom under the garbage bag will guard against too harsh a smell.
Laundry cleaner – 2-3 drops of patchouli oil in the washing detergent frees the laundry from pests and the smell chases off unwanted moths, too. And, as we mentioned earlier, eucalyptus oil drops in the detergent or straight into the washing machine can kill dust mites. Be careful with the oil quantity you add to the washing machine. Too much of it can damage the plastic parts and rubber seals.
Natural dishwasher detergent – To make a natural dishwasher cleaner, combine equal parts of plant-based soap, such as olive or Castilian soap, with sodium carbonate and baking soda. Add a quarter of lemon acid to enhance the cleaning power. For a refreshing scent, add two drops of patchouli oil. Mix well and use it to clean surfaces around your home. Blend the ingredients until you get fine dust. Use the same method as the commercial detergent.
Natural vacuum freshener – To naturally freshen your carpets while vacuuming, you can use lemon essential oil and a piece of cotton. Simply add five drops of lemon essential oil to the cotton and place it inside the vacuum cleaner bag. As you vacuum your carpets, the scent from the essential oil will be released, leaving your home smelling fresh and clean. Remember to replace the cotton and essential oil as needed to maintain the deodorising effect.
How to use vinegar for cleaning
Vinegar is a natural cleaning product that can be used to clean windows, mirrors, floors, countertops, and more. The acidic nature of vinegar makes it effective at breaking down and removing dirt, grime, and stains.
When it comes to cleaning oily utensils, vinegar is not a suitable replacement for dishwasher detergent. Alkaline detergents are more practical for removing oil stains effectively.
If you need to remove paraffin wax from a surface, vinegar is a good option, but keep in mind that it can damage the cover and darken its shiny outlook. It's best to avoid vinegar if you don't plan to remove the wax.
For cleaning marble surfaces, vinegar is not recommended because it has a corrosive effect on the marble's porous structure. Acid-based cleaners should be avoided.
While apple vinegar can leave stains on textiles, distilled white wine vinegar can be used to whiten clothes. However, it's not suitable for cleaning aluminium or cast-iron utensils due to unwanted chemical reactions. Instead, you can use vinegar to clean stainless steel and enamelled cast-iron utensils.
Mixing vinegar with bleach can create a hazardous aerosol, so it's best to avoid using them together.
While vinegar can be used as a natural insecticide, it should not be sprayed directly on green leaves as the acid can destroy them. It can, however, be used to kill unwanted weeds.
When it comes to cleaning egg stains, vinegar should be avoided as it can create a gluey substance that's even harder to clean.
Mixing vinegar and baking soda creates a powerful cleaner, but its effects are short-lived. You'll need to act fast to make the most of its cleaning power.
How to use baking soda for cleaning
A round-up of green cleaning products won't look and feel the same without baking soda. Let's see the next basic uses for baking soda in cleaning domestic grime. Baking soda is a versatile and affordable natural cleaning solution that can be used to clean a variety of surfaces in your home. Here are some steps to follow when using baking soda for cleaning:
Create a paste: Mix baking soda with a small amount of water to create a paste with a thick, spreadable consistency.
Apply the paste: Apply the paste to the surface you want to clean, using a sponge or cloth.
Scrub the surface: Use a scrub brush or sponge to scrub the surface, working the baking soda paste into the surface to remove dirt, stains, and grime.
Rinse thoroughly: Rinse the surface with water to remove the baking soda and any dirt or grime that has been loosened.
Here are some specific ways you can use baking soda for cleaning:
Baking soda oven cleaner: Mix baking soda with water to create a paste, spread it on the inside of your oven, and let it sit overnight. Wipe away the paste and dirt the next day with a damp cloth.
Baking soda bathroom cleaner recipe: Mix baking soda with water to create a paste, and apply it to surfaces such as the bathtub, sink, or shower. Scrub the surface with a brush or sponge and rinse thoroughly.
Baking soda bathroom cleaner: Sprinkle baking soda on your carpets, let it sit for 15-20 minutes, and then vacuum it up to remove odours and freshen up your carpets.
Baking soda cleaner for kitchens: Sprinkle baking soda on your sink, stove, or countertops and use a sponge or cloth to scrub away dirt and grime.
Remember to test baking soda on a small, inconspicuous area first to ensure it doesn't damage the surface you're cleaning.
How to make rubbing alcohol cleaning solution
Isopropyl alcohol, which is often called "rubbing alcohol" (60-70% water solution) is widely used. Don't forget it's poisonous and shouldn't be swallowed or inhaled. Keep away from children and pets and read the labels carefully.
Remove permanent marker trails – most contemporary countertops are made of a material which doesn't keep the stains (marble or laminate). To clean a permanent marker doodle, use a dampened towel with a bit of alcohol on it. Wait until the marker trail becomes liquid and wiped out.
Keep your windows shiny during winter – if they easily get frosted, wash them out with a solution of 1 litre of water and half a glass of rubbing alcohol. Polish them with a towel after washing.
Remove any ink stains – if you've inked your clothes, draperies or furniture – here comes the rubbing alcohol to the rescue – and try to soak the stain for several minutes in a small clean amount of the substance before you wash the textile. Read the label of the item beforehand so that you can make sure it can be treated that way.
Get rid of fruit flies – the next time you see the annoying fruit flies in the kitchen, sprinkle them carefully with a fine spray full of rubbing alcohol – they will drop on the floor so you can wipe and throw them out. Don't sprinkle on food, animals or people. Isopropyl alcohol is not as effective as common insecticides, but it's less harmful.
Variety of cleaning services available to book online!
Enter your postcode to view our rates and availability in your area.
These are some of the many kinds of green cleaning products you can make at home. Have you used any of those and what are your own recommendations? We would love to hear more on the topic in the comments below.