Last update: 2 weeks ago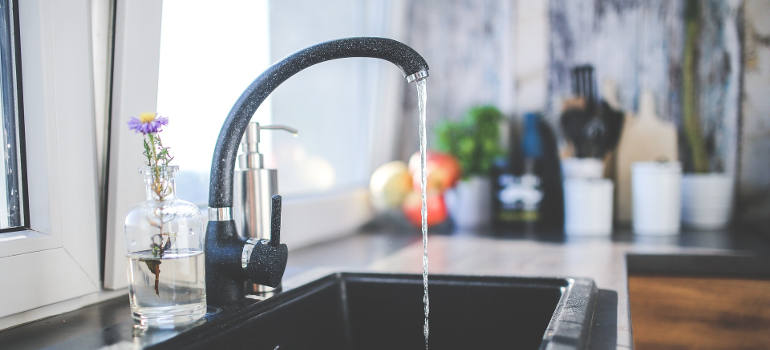 A comprehensive guide to removing limescale from surfaces, fixtures and household appliances. If you wonder what the UK hard water map looks like, you'll find that most of mainland Britain, apart from Scotland, Wales, Cornwall and a couple of Northern districts, suffers from the effects of a hard to very hard water supply in the form of limescale.
The milky looking substance gradually cakes various household surfaces and appliances in thousands of homes across the country, making them difficult to clean and compromising their function and lifespan.
With this post, we hope to enlighten you about the best ways to get rid of hard water deposits from particular areas around your home, as well as from various electrical devices. And more importantly, we'll share some tips and tricks on how to prevent limescale build-up.
But first things first:
What is limescale?
The formation process of limescale holds no secrets. If rainwater permeates through non-porous rocks like granite, the water remains as soft as it was when originally touched the ground. But when rain passes through soft rocks, such as chalk or limestone, on its way to rivers, the water collects mineral particles like magnesium and calcium. Thus, its chemical composition changes, making water hard. Then, add the heat that household appliances need to function and you end up with limescale encrustations tarnishing those over time.
And to make the problem worse, with the expansion of water networks in the UK, now, originally soft water regions are supplied unfortunately with hard water, too.
So, let's explore the most effective ways to maintain your fixtures, surfaces and appliances at home limescale-free.
Store-bought products vs. natural limescale removers
The world wide web is inundated with tips and advice on what commercial detergents perform best when put to the test of eliminating the unpleasant white layers from bathroom tiles, toilets and sinks. Then, comes the plethora of ideas on what natural substances are just as good as store-bought branded products.
As a specialised cleaning service providers, we can only say that both the chemicals and the eco-solutions have their place in the fight against limescale. The trick, when deciding on what to trust and use, is to consider the severity of the hard water deposit build-up and the type of surface or appliance you need to descale. In other words, it doesn't seem like a good idea to clean the milky flakes from your kettle with bleach.
Carry on reading through the list below and find out when is appropriate to use natural ingredients that you can find in your kitchen cupboards and when powerful professional limescale removers are your only chance in this quest.
How to remove limescale from appliances
It goes without saying that if you leave household appliances unmaintained for long, limescale build-up can take a toll on their performance and durability.
Washing machines and dishwashers
You can descale both types of appliances by using commercial limescale removers or natural substances.
Washing machine
Place a limescale remover in the dispenser drawer and run a standard cycle without clothes, of course. If you wish to skip the use of chemicals, you can run a couple of hot cycles by adding first some baking soda and then, during the second one – a small cup full of white vinegar.
Tip: The best advice is to descale your washing machine on a regular basis. You can also soften your laundry by adding a water softener/conditioner during each cycle or Borax, which has similar properties to baking soda.
Dishwasher
The methods you can use to descale your dishwasher are not dissimilar to those you can apply when cleaning your washing machine. Just add the chosen ingredient /chemical or natural/ in the base of the equipment and run an empty cycle.
Tip: Using dishwasher salt tablets will help soften the water and prevent limescale from building up.
Coffee makers and kettles
Both kitchen devices can be descaled in the same way:
# Method 1: Add 2 tablespoons of water softener to your kettle, filled with water, and boil for a couple of minutes. Run your coffee machine (without coffee) by mixing the water with a softener. For both devices, you can replace the water softener with a dental cleaning tablet, too. Rinse thoroughly with clean water at the end.
# Method 2: Soak your kettle/coffee maker overnight in white vinegar or lemon juice (half full). Top the appliances with water and boil/run the device. Rinse with clean water.
Tip:
The two cleaning procedures can be used as a preventative measure. Or in other words, you don't need to wait until your morning cup of tea is decorated with white flakes, dancing in a float, to remind you that it's time to
clean the kettle
.
Percolators
Aluminium percolators can be descaled by mixing water with some cream of tartar. Run the coffee maker once and then, rinse it a couple of times with hot water.
Steam irons
If you own a steam iron and live in a hard water area, the device will inevitably suffer at some point from clogging up with limescale. And although, most models have a self-cleaning functionality, here's what you can do to facilitate the descaling process. Dilute white vinegar with water (1:1) and fill the iron reservoir until it's a third full. Steam the iron for about 10 minutes at medium heat. Then, repeat the process with clean water to remove all mineral residuals. Note that some models do not recommend the use of vinegar, so refer to the manufacturer's instructions in advance.
Tip: To prevent limescale from ruining your clothes or causing malfunctions to your device, you can use distilled water instead of tap water. Also, never leave excess water to sit inside the iron.
How to get rid of limescale from bathroom surfaces and fixtures
Don't know how to get rid of the #limescale in your #bathroom? It's easy 🙂 Call in the professionals 📱020 3746 1668 pic.twitter.com/E85SRkwynw

— Fantastic Services (@Fantastic) 2 May 2018
The bathroom is the one place in your home, where every surface can suffer from limescale deposits. And the trick to successfully remove them, especially when using natural ingredients, is to allow sufficient time for the substance to work its magic. You can apply the same cleaning methods to remove hard water deposits from your kitchen sink and tap, too.
Tap, faucet tip and showerhead
Metal fixtures may be scratched if you use an abrasive cleaning agent.
Tap
It's up to you if you want to use a commercial limescale removal or vinegar, for instance. Soak a cotton cloth in the chosen solution and wrap the fixture well. Use a string if necessary and leave overnight. Wipe the dissolved deposits with a sponge on the following day. You can also use a drop of baby oil to polish the tap.
Aerator
The sprout is rather awkward to descale there and then, as it needs to stay in contact with the limescale neutraliser long enough. So, fill a small plastic bag with white vinegar and tie it around the faucet tip with an elastic band. Leave to soak overnight.
Showerhead
This method applies to cleaning a showerhead that can be detached. Unscrew the fixture and soak it for some time in bleach or in a mixture of vinegar and water. When you place it back in position, run the shower for about 5 minutes. This should remove limescale from your shower head. For non-removable shower heads, use the trick with the bag as mentioned above.
Tip: You can't do much about preventing limescale from "dulling" your bathroom/kitchen water fixtures but to clean them as regularly as you can.
Bathtubs, shower base and sink
As these bathroom fixtures can be made from different materials, go safe and purchase a suitable limescale removal product, especially if you are not sure whether an acidic substance, such as vinegar, may ruin the surface of your bath, for instance. Also, in particular spots like around the taps, where limescale may have accumulated in thick layers, you can chip them off with a non-scratchy spatula-like implement, first, then work the area with a pumice stone, followed by cleaning the area with a sponge, dipped in a removal solution of your choice.
Tip:If you dry your bathroom fixtures after every use, you can prevent hard water deposits from building up.
Toilet
With toilets, there's no need to experiment. Just get a strong quality product, designed especially for cleaning toilets, from your local store and apply according to the manufacturer's guidelines. However, older fixtures may need more work and several methods can be applied in a sequence, including the use of some elbow grease, such as manual scrubbing with a pumice stone or a fine-grit sandpaper around the rim. In addition, you may get the results you want if you drain your toilet first and then fill it with a solution to soak overnight. This could be a mixture of white vinegar and borax, for example.
Tiles and grout
Relatively flat and large surfaces can be cleaned much more easily. You can safely scrub the tiles and grout with a homemade paste of baking soda and lemon or vinegar. Commercial cleaning agents are also effective and will successfully make your bathroom sparkle.
For tricky areas around bathroom accessories and fixtures, you may need to gently scrape off the white crusts with an improvised tool before applying the limescale removal solution you've bought or stirred up yourself.
Tip: Clean your bathroom tiles regularly is what we can say!
Shower screen
Your shower screen or door can become sparkling clean if you pour some cheap white wine over the glass and leave it for half an hour to soak up and disintegrate any limescale and soap traces. Then, sponge the surface down with a mild solution of water and washing up liquid and polish with kitchen paper until the glass is completely dry.
Tip: Always dry the screen after each use and perform the above cleaning ritual at least once a week. If you wish to have a shiny shower at all times, that's it!
Bathroom accessories
These could be soap holders, shower caddies and organisers. Depending on the material they are made from, the fittings can suffer not only from limescale and soapy deposits but they may also form spots or layers of rust. You can succeed in maintaining them clean with professional cleaning detergents as well as by using bicarb soda and lemon. Dry polish at the end with a soft cloth or paper towel.
Tip:Again, if you dry the fixtures after your bath or shower, clean them regularly and don't forget to ventilate your bathroom to keep condensation levels low, you will deny limescale the opportunity to encrust your shiny bathroom accessories.
Final thoughts
So, there you have it, our professional advice on how to get rid of limescale from your household appliances and surfaces. And you can always consider investing in a professional water softener filtration system installation or book a one-off deep cleaning session with us.
Need a cleaner?
Enter your postcode to view our rates and availability in your area.
Was this post helpful? Do you have any limescale removal tips that you can share in the comment below or on our social media channels? Please, do so!