Last update: 4 months ago
In a world of many uncertainties, we can probably all agree on one thing – that carpets and upholstery can get covered in stains rather quickly. And sure, technology has skyrocketed in recent years, with companies offering steam cleaning services, others – dry cleaning alternatives, and others still the even more technical-sounding technique, mandatory to understand – hot water extraction cleaning.
By now, you are probably scratching your head in confusion.
Which of the methods is suitable for your type of fabric?
Which of them is more eco-friendly?
What is hot water extraction carpet cleaning?
Is hot water extraction applicable to upholstery?
At Fantastic Cleaners, we conducted thorough research to give you the answers to each as well as extra questions to help you understand hot water extraction. Just brew a cup of coffee, assume a comfortable position, and keep on reading.
What is hot water extraction cleaning (HWE) in a nutshell
The premise is simple. To perform this method, rug technicians use industry-grade equipment to inject hot water under high pressure into the stained fabric. The warm water, coupled with the sheer force of the stream, will restore your carpeting or upholstery's original appearance.
However, you will see many companies advertising this method as "steam cleaning", which could be a tad misleading. While admittedly some steam is released during the final stages of the hot water extraction carpet cleaning, it serves no actual purpose.
In other words, the hot water does the stain removal and not the steam.
How the hot water extraction carpet cleaning service is done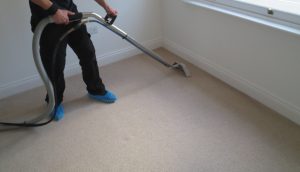 After constant tweaks and optimisations, the HWE process for cleaning your carpets looks something like this:
Water is mixed with gentle detergents and heated in the equipment's water compartment. The cleaning products used are usually eco- and child-friendly.
The liquid is injected under high pressure directly onto the stained spots in the carpet pile. This dislodges the dirt particles, making them easier to clean.
When cleaning the carpet using hot water extraction, the specialist will also apply a chemical that will soften up and degrease the stains even further.
The professional will use the machine again to extract up to 95% of the moisture back along with all the grime contained within the carpet.
Besides carpets and rugs, you can also book hot water extraction cleaning for upholstered furnishings. such as sofas, couches, futons, upholstered chairs and more.
The benefits of hot water extraction cleaning
The advantages of using the method are quite a few. To fully understand hot water extraction carpet cleaning, note the following:
Water is the only thing used to clean the carpeting, which makes this method suitable for people suffering from allergies or asthma;
HWE uses little to no detergents, and what's being used is perfectly safe for your children, pets, and the environment;
Unlike dry cleaning and steam cleaning, HWE is able to refresh your rug's pile from head to toe, leaving it fresh and stain-free for much longer than with the other methods;
The water-detergent ratio is strongly in favour of water, meaning that no chemical residue will be left behind after each treatment.
Why you should avoid the DIY approach?
If you're thinking about renting an HWE machine (which is something quite trendy these days), you need to know a few things first. For instance, some of the rented equipment out there has a much weaker drying power than its professional counterpart.
This leaves the rug damp for several days on end, which can, in turn, promote mould growth and unpleasant damp odours to get rid of. Rented models also have a weaker suction and will not be able to gather surface dirt as efficiently before the heat treatment, which could result in messy carpeting.
Certified carpet technicians, on the other hand, have access to truck-mounted hot water extraction gear that will perform the carpet cleaning service more efficiently by removing all accumulated dirt and drying out the carpet significantly faster – within just a day or two.
Hot water extraction vs steam cleaning
What is steam carpet cleaning?
This method involves heating up water until it reaches its boiling point. The resulting steam is then used to penetrate the fibres of your rug in order to disinfect it from various bacteria and battle the stale odour that often shrouds carpets, which have not been aired out for a long time.
What are the advantages of HWE over steam cleaning?
The strong suit of the steam method is that it can remove stale odours, efficiently kill bacteria due to the high temperatures, and achieve all of this by using absolutely no detergents whatsoever. However, when compared to HWE, it also suffers from some drawbacks, such as:
The water needs to reach the boiling point in order to evaporate. This can be a problem since steam can set in non-removable water stains after the treatment;
Unlike hot water extraction, steam cleaning cannot be combined with any detergents, which is why it is unable to rinse the carpet fibres as thoroughly;
Steam cleaning is not suitable for cleaning carpets made of natural fabrics since the steam can shrink the fabric or even leave visible signs of damage.
Dry carpet cleaning vs hot water extraction
What is dry carpet cleaning?
This method's main goal is to refresh delicate fabrics that are otherwise vulnerable to water. To tackle the stains, professionals use a special cleaning powder – a crushed, spongy-looking material that is mixed with non-abrasive detergent.
They then use a machine, equipped with two delicate brushes, to gently rub the powder in the troublesome spots. The brushes spin counter-clockwise and serve different purposes – the first brush agitates the carpet's fibres, while the other rubs in the powder in.
What are the advantages of HWE over dry cleaning?
One main plus of dry cleaning is that it uses almost no liquids, so the moisture does not exceed 10%. This means that there is no chance of any discolouration to occur, and there won't be any soapy stains left behind. You can also walk on the carpet immediately after the service.
However, there are significant drawbacks to this method when compared to HWE, for instance:
The method is not very efficient stain-wise since it only refreshes the surface rug layer;
The service is quite costly due to the expensive machine and cleaning powder used (check our in-depth carpet cleaning cost guide for London for more information regarding rates and additional services);
Sometimes, the cleaning powder can spread onto nearby furniture and interior items.
FAQ about extraction method carpet cleaning
How often should you book hot water extraction?
Most people assume that they need to wait for several years before letting a carpet technician intervene. However, to prevent your rug's fabric from degrading due to tracked in dirt or from becoming infested, we recommend giving your carpeting a proper clean once a year.
What tools of the trade are the specialists using?
Most hot water extraction carpet cleaning companies ensure that all their pros carry:
Vacuum cleaner and HWE machine;
Spray bottles and stain removal products;
Hand scrubbing brushes and clean cloths;
A low-foam carpet cleaning product;
Foil or plastic pieces to place under furniture.
How do the experts perform the service?
Let's take a look at how professional hot water extraction carpet cleaning is done step by step:
The equipment is assembled and safely connected to the power grid.
The expert ventilates the area and frees it from sofas, tables, and other furniture.
The carpet is thoroughly hoovered to remove all loose soil on the surface.
The rug's colour fastness is checked using a white cloth and a cleaning agent.
The specialist secures the carpet at all edges and prepares the carpet solution.
The solution is diluted in the water and a spray is used to pre-treat the stains.
The carpet technician begins cleaning the furthermost area from the door. He sprays the liquid in overlapping straight lanes and pays attention not to overwet the carpet.
Upon service completion, the technician returns the furniture to its original spot and places protective covers underneath to prevent any potential discolouration.
Need hot water extraction cleaning done?
Enter your postcode to view our rates and availability in your area.