Last update: 2 weeks ago
In recent years, more and more people choose to bring natural fibre carpeting into their homes due to their cosy warmth, excellent durability, and their eco-friendly manufacturing process. But you probably know all of this already since you bought one yourself. What you really wish to find out is how to wash natural fibre rugs. And there's no way around it – this can often be difficult.
For instance, sisal and other natural fibre carpet types (coya carpets, coconut fiber, rattan) are very sensitive to moisture, which means that they need to be spot-cleaned in specific ways, while their complete cleaning will involve powder-based solvents. Natural rugs also tend to fade faster (especially when exposed to sunlight) compared to traditional synthetic carpets, and their fibres have the tendency to sprout.
Things are not all doom and gloom, however. Keep reading to find efficient ways in which to deal with particular stains, keep your piece of natural fibre fabric in top-notch shape, and learn which professional services to book when DIY solutions no longer seem to do the job. But first, let's start off by studying some of the most widely available natural rugs on the market.
Types of natural fibre rugs
Coir carpets
Made from the outer fibres of coconut husks, coirs have been used as a natural carpeting solution for many centuries. The cellulose fibres are initially soaked in fresh water for several months, after which the material is beaten in order to soften it up. Finally, the fibres are spun by hand to create the rugs and welcome mats that you can find in many households today.
Coir carpet fibres are extremely durable, making the rugs perfect for enhancing the appeal of busy household areas, such as living rooms and hallways.Coir carpet fibres are extremely durable, making the rugs perfect for enhancing the appeal of busy household areas, such as living rooms and hallways. Another benefit is that, unlike other synthetic alternatives, little to no chemicals are being used to process coir carpets. Finally, the natural oils found inside of coir fibres act as natural pest repellents, carpet moths included!
Sisal carpets
Sisal is extracted from the leaves of a particular Central American plant, called Agave Sisalana. Since the plant grows in dry and desert climates, its leaves are just as coarse and need to be crushed, washed, and dried first before the fibres within them can be spun into a yarn.
Initially coarse to the touch, sisal becomes softer and increasingly pleasant to walk on barefoot as the carpet wears in. Such carpeting is also incredibly durable and will feel equally well in the hallway or in the living room. Sisal fibres also have anti-static and humidity-controlling qualities, making them safe to use in rooms with lots of computers and other electronics.
Seagrass carpets
Seagrass carpeting originates from the seagrass plant that grows in the paddy fields of China and Vietnam. To extract the fibres, workers collect and dry the plant's flat and blade-like leaves.
Seagrass is a durable carpeting option with sound-dampening qualities and is offered in yellow-green or dark green shades, depending on when the plant was harvested.
Jute carpets
The fibres of jute rugs are extracted from the inner bark of a big tropical herb of the Corchorus genus. Jute is grown in Southern India and in other hot locations in Asia and the word itself is used to describe the plant's fibres, while the manufactured fabric is called "hessian".
The clear advantages of having a jute carpet is that it's anti-static, has sound-dampening properties, and its natural oils will cause it to self-extinguish itself when caught on fire.
How to clean a natural fibre carpet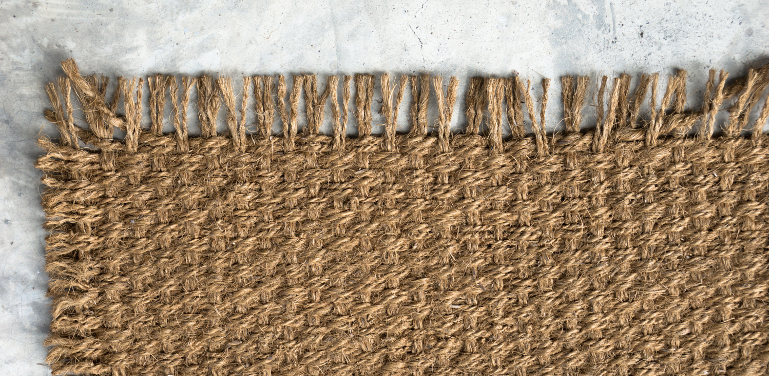 As a rule of thumb, you should attend to spills as soon as they occur by blotting them up with a clean cloth, while any solids should be scraped up with a dull knife or a similar tool. With that said, here are some extra measures you can take when facing water-based or greasy stains.
How to clean water-based spills
When juice, coffee or another beverage lands on your natural carpet, be quick to:
Immediately blot the spill with an undyed paper towel or a cleaning cloth.
Brush or sponge up the stained area with a bit of carpet shampoo dissolved in lukewarm water. Make sure that the shampoo has a neutral pH factor.
Apply a small amount of the detergent to the stain, but avoid saturating the fabric.
Blot the liquid and repeat the procedure as many times as necessary.
Use a hair dryer to quickly dry out the affected area.
This method is also great for treating a variety of other stains, including dog vomit or urine.
Need a carpet cleaner?
Enter your postcode to view our rates and availability in your area.
How to clean oil-based spills
French fries and other greasy food stains are difficult to remove, but not impossible. Here is what you need to do:
Scrape up as much of the solids as you can with either a dull knife or a nail file.
Dampen an undyed paper towel or cloth with a bit of Tetra or a petroleum solvent.
Blot the soiled patches and standby to see if the solvent is dissolving the stains.
Work towards the centre of the stain and refrain from applying too much solvent.
Repeat the process as many times as needed, then dry with a hairdryer.
In addition to dealing with food, you can also use this method to remove coloured chalk, shoe polish, and other sticky substances.
How to clean beer and wine spills
Here is what you need to do ASAP if your party got a little out of hand and some red wine or beer was spilt:
Blot the stain with an undyed paper towel or a cleaning cloth.
Dampen a new piece of paper towel or cloth with wood alcohol.
Use the soaked item to clean the stain without oversoaking it.
Dry-chem carpet cleaning breakdown
The technician applies the dry-chem powder to your stained fabric.
They will use a machine with rotating brushes to rub it into the carpet.
The powder will bond with the dirt particles on a chemical level.
The product is left to sit for some time until all dirt is loosened.
The professional vacuums the carpet to remove the powder and all dirt.
You can immediately use your carpeting after the service is done.
Carpet cleaning methods you should avoid
You may have heard that the hot water extraction cleaning method, also known as steam cleaning, often leads to impressive results when applied to a carpet. While this is true for synthetic imitations of natural carpeting made from nylon or wool-blend materials, your risk severely damaging your natural fibre rug if you apply the hot water extraction method yourself!
You should also avoid applying a wet shampoo to your natural fibre carpeting as the liquid will likely cause it to shrink or to become wrinkled. With that said, you are now probably wondering what can you do to actually refresh your delicate fabric. Enter the dry-chem cleaning method.
Natural fibre carpet maintenance tips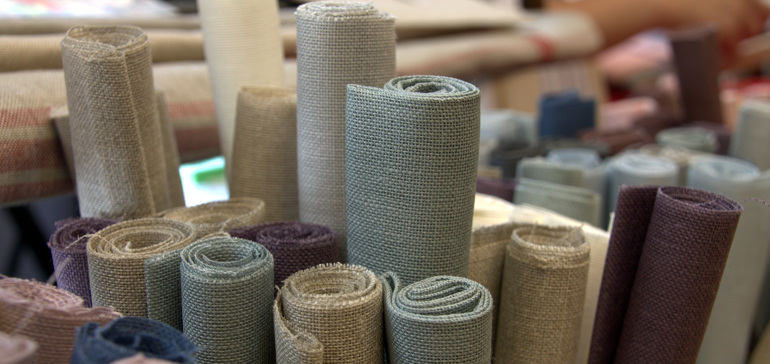 Tip #1: Clean your rug on a regular basis. This may seem like an obvious thing to state, but you should know that it is much easier for dirt particles to become entangled in natural fibre carpeting than it is with their synthetic counterparts. To this end, make sure to regularly vacuum your rug using the appropriate upholstery attachment. Other methods you can try is shaking the rug to remove debris, or hanging it up outside and dusting it with a tennis racket.
Tip #2: Use a damp towel to remedy curled rug corners. If you have been using your natural carpeting as an area rug, especially in high traffic areas, you will sooner or later notice that its corners have started to curl. To fix this, simply dampen the curled area with an evenly spread damp towel, place some weights on top, and leave it overnight. Keep in mind that you may have to repeat this process a few more times, depending on how long your rug had its corners curled.
Tip #3: Cut sprouting fibres using shears. Since most natural fibre rugs are braided and sewn by hand, they are very prone to sprouting. This goes double for jute carpeting, which has shorter fibres. To remedy this, simply use shears to clip down the fibres that have already stuck out from the carpeting surface. The good news is that, with time, the fibres will "settle in" and you will no longer have to use your scissors as much.
Tip #4: Always contact a manufacturer for advice on cleaning specific stains. If you cannot identify the stain on your carpet, or the carpet needs a more thorough cleaning overall, we highly encourage you to seek out the original manufacturer for specific cleaning recommendations, since most companies treat the fibres of their natural products differently.
Tip #5: Maintain consistent low humidity levels within your premises. Sisal and other natural fibre carpets should be kept outside of areas with high humidity, since the extra moisture could stain them or even cause them to shrink. Consider purchasing a dehumidifier to maintain optimal humidity in the area where your rug is located.
Tip #6: Make sure your rug receives even amounts of sunlight. As mentioned above, sisal and other natural fibres become bleached when exposed to sunlight. So, if your room lets moderate to high amounts of sunlight in, ensure that your rug is either fully exposed to the sunrays or completely hidden in the shadows to maintain a consistent colour.
Tip #7: Apply Scotchgard or other fabric protectant sprays. This step is only necessary if your carpet is located in a busy area of the house. Treating the fibres with Scotchgard or a similar product will ensure that they are well protected against water spills and dirt. Just don't forget to re-apply the spray regularly as its effect will wear off with time.
Contact the professionals
When greasy food or drinks accidentally land on your brand new natural flooring, turn to Fantastic Cleaners. We work with certified and fully equipped carpet cleaning technicians to deliver efficient results at affordable rates. Get in touch with us today to receive a free quote!
Need professional carpet cleaning?
Enter your postcode to view our rates and availability in your area.