Last update: 3 months ago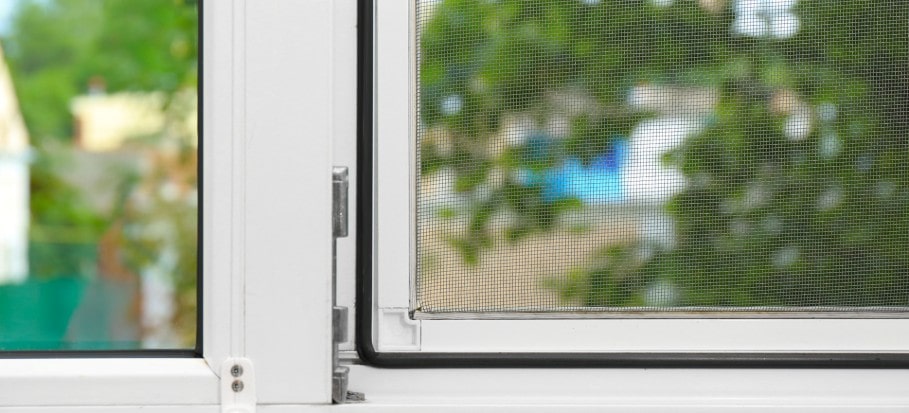 As one of the most basic summer necessities, window fly screens are the protective attachment that stops insects and debris coming into your home without obstructing the view or cutting off the airflow. They're supposed to help us enjoy the warm days and nights without worrying if any bugs or creatures of the night will try to enter the house.
Unfortunately, in a short time, they tend to accumulate dust and all sorts of dirt like dead insects, spiders, cobwebs and much more. For that reason, you should clean your window screens every month, especially if you're living in a polluted area.
Every time when you clean your windows the fly screens should not be left behind. The dirt build-up on them is considerably more than the one on the windows themselves. If you don't wash the screens, all accumulated dust, pollen and other dirt particles will get transferred onto the window panes over time.
How to clean window screens without removing them
if your window screens are in need of deep cleaning, here is a simple guide on how to do it swiftly and effectively.
What do you clean screens with:
Lint roller;
2 -3 microfiber cloths;
Vacuum cleaner;
Bucket;
Plastic jug;
Water;
White vinegar;
Liquid dish soap;
Soft brush.
The window screens' cleaning process
Dust the window screens – To clean your screens, start by dusting them with a lint duster or microfiber cloth. Doing this will help remove any excess dust and debris, making further cleaning much easier. The fibres of the cloth don't get embedded in the screen and it's important not to use just a regular rag to remove the loose dirt first. Roll over or wipe every screen on both sides a few times. This is especially advisable when there is pollen on the screens that you are cleaning. Vacuuming your screens with a soft brush attachment is another effective way to remove dust and debris. Just be sure to avoid using a plastic end on your vacuum hose, as this could damage your screens. With a little care and regular cleaning, your screens will stay dust-free and look great for years to come.
Protect the walls and floors – Cleaning window screens without taking them down can be a messy job. So, once you're done dusting/vacuuming the screens, quickly vacuum the floor area under the window and put down a protective cover. Since you'll be using liquid to clean the screens, ensure your painted walls, carpet, or hardwood floors are well protected from any potential drips or spills. A large towel or an old blanket should be sufficient for this. However, for larger windows, such as bay or bow windows, you may need a painter's drop cloth to cover a wider area.
Prepare buckets for cleaning and rinsing – To clean your windows effectively, it is important to have two buckets on hand – one for cleaning and one for rinsing. The cleaning bucket should contain a mild cleaning agent, such as dish detergent or an all-purpose cleaner. Be sure not to add too much detergent, as this will create a heavy lather that will be difficult to rinse. You could add some vinegar to the water if the screens were not washed a while ago. The rinse bucket should simply contain warm water. To protect your floors and furniture, it is advisable to cover a large area with a towel or old blanket. A painter's drop cloth can also be used, especially for larger windows.
Tip: If you can't remember the last time you cleaned the window screens, you can use another mixture – use ¼ cup ammonia with 1 gal. water. (Wear rubber gloves for this.
Use a lint-free rag to clean window screens – You will need a soft, clean, and lint-free rag or microfiber cloth to clean your screens. First, dampen the rag in your cleaning bucket and wring out most of the water to avoid dripping. Then use the damp rag to gently wipe the screen, focusing on areas with excessive dirt or debris.
Use a clean rag and clean water to wipe the screens – After cleaning each window screen, wipe down with a clean rag from the rinse bucket to avoid any soap residue. It's important to keep your rinse bucket clean, so feel free to dump it out and fill it with fresh water as needed. Depending on how dirty the screens are, you may need to refresh your rinse bucket between each one. Lastly, check for any missed spots and repeat the process as necessary.
Allow the window screens to air dry – After you clean and rinse the screens, let them air dry. They will dry quickly, but some water might remain around the window sill. Use a dry cloth to absorb it, and open the windows to help the natural airflow dry the screens faster.
Inspect the area – Clean up time! But first, take a quick look around the area to be sure there's no water on the floor. It is essential to do this if you have natural wood flooring in your home, as water can damage and discolour the wood. Also, check for any dirty water marks or moisture on the surrounding walls. Once you've inspected the area and cleaned up as needed, relax and enjoy your clean space!
How to remove and clean window screens
Before you start cleaning the window screens, you need to remove them so that you can easily wash the dirt from both sides. Mark the screens with a sharpie or a pencil on the top corner to remember which window they belong to.
So if you want to know how to remove the window screens for cleaning remember that it always depends on the type of screens you have. Also, make sure carefully to unhinge them off the window frames because the wire mesh can be easily ripped or torn.
The next step is to find a suitable place to work, somewhere where the water will drain easily. If the weather allows it, you can wash the screens outside in the garden or on the driveway. It's preferable to have access to a hose otherwise you'll need to carry water in buckets to rinse the screens.
What is the best way to clean window screens
How to clean window screens with vinegar
Mix a cleaning solution in a bucket by adding one cup of white vinegar, a ½ tablespoon of liquid dish soap and 2l water.
Rinse the entire screen sideways with a garden hose, the shower or by pouring water from a bucket before scrubbing it with the cleaner. If you're going to use a hose, set it on the most muted setting to avoid damaging the screen.
Take a soft brush and carefully scrub the screen with the cleaning solution. This will break up the dirt and grime left on the wire mesh. Use small, circular scrubbing motions and make sure to scour the entire screen so you can remove as much of the filth as possible. Rinse the brush frequently to avoid smearing more dirt on the screen.
Wipe the screen and the frames with a wet microfiber cloth to remove any leftover grime and soak up the excess cleaning solution.
Rinse the screen on both sides using a garden hose, the shower or by pouring water with a bucket or plastic jug.
Allow the screens to dry before installing them again. To speed up the process try shaking the excess water off. Swab up the screen with a dry microfiber cloth and leave them under direct sunlight to air-dry.
If you want to get your windows professionally cleaned, you can count on us.
Learn more
How to remove latex paint from window screens
Tools you need:
Paint thinner/ acetone nail polish remover/ rubbing alcohol;
Old soft cotton cloths;
Bucket with water or garden hose.
Moisten a soft cotton cloth with the paint thinner, nail polish remover or rubbing alcohol. Proceed with caution and gently scrub the cloth over the area until the paint softens and comes off. Then rinse the screen thoroughly with water from a bucket or a garden hose. If you've cleaned it without removing it from the windows, use a wet cloth to wipe off the cleaning solution.
A few additional tips
Regular cleaning is super important if you want your window screens to last a long time and keep protecting you from all the annoying bugs and insects. Dust and vacuum them as part of your monthly home cleaning routine.
When it's time to replace the screens after washing, make sure that they are securely in place. You don't want them to fall out or break during windy weather, right?
How to clean non-removable window screens? Magic Erasers are excellent for cleaning window screens still attached to the window.
Takeaways
Cleaning your window screens may not be the most fun job in the world, but it's definitely a necessary one. The more frequently you clean them, the less work you'll have to put in next time. To dislodge dirt, grime and other messes that have accumulated on the screens, try using a lint brush or soft sponge. For even dirtier screens, you can make your own cleaning solution by mixing white vinegar and dish soap.
Need a window cleaner?
Enter your postcode to view our rates and availability in your area.
Image source: Depositphotos/ belchonock

Was this post helpful? Do you have any window screens cleaning tips and ideas that you can share in the comment below or on our social media channels? We'd love to hear them!