Last update: 6 days ago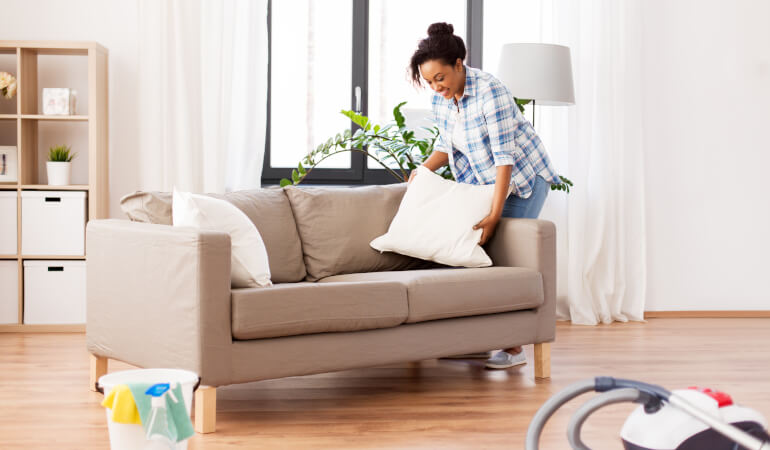 Sofas are great for providing comfort, you can just lay down a bit and relax after a long day at work. The couch is considered to be the most used piece of furniture, easily accumulating lots of dust, hair and stains over time. Sofa cushions (just like the sofa itself) are also susceptible to dirt, so cleaning shouldn't be postponed for long periods of time.
In this blog post, we have gathered all the valuable information regarding the best and safest ways of cleaning sofa cushions, regardless of their material. Read on!
1. Identify the cushion material
It's extremely important for you to know what material your sofa cushions are made of in order to know which cleaning methods and solutions you should avoid at all costs. All upholstered furniture has a cleaning code that is usually sewn in an inconspicuous area of the sofa, usually on the underside of the seat or on the very bottom of the couch. Also, different fabrics require different cleaning methods and detergents. Some of the most common sofa fabrics are:
The cleaning codes you are looking for have the following information:
X: You should only vacuum and light brush the sofa. Avoid using water and solvent when cleaning.
WS: Using water and solvent-based cleaning solutions is perfectly fine.
S: Don't use water when cleaning your sofa. Instead, opt for a solvent-based cleaner.
W: You can use water and water-based cleaners.
2. Pre-clean the sofa cushions
Before applying any cleaning method to your sofa cushions, we advise you to hoover both the covers and the cushions (if the covers are removable) thoroughly, so all the accumulated dust, hair, food particles, etc., are lifted. This will make the further washing easier.
Make sure to use your vacuum's upholstery attachments for the best results. They come in different sizes and shapes, some even have a soft brush attachment. You should bе able to use your vacuum cleaner for most fabric types, but be sure to check beforehand, just in case.
3. Opt-in for a cleaning method that suits your sofa cushions
It's important to choose a cleaning technique that will be safe for your cushions to avoid damage to the fabric or the form of your sofa cushions. With that in mind, we advise you to try the following.
Option 1: How to machine wash your sofa cushions
If you sofa cushions have a zipper, then you can remove the covers and clean them separately. This can help if only the cushion covers have been heavily stained. However, if any liquid has soaked into the cushions, then it's important to clean them as well to eliminate bad smells and potential mould growth.
Machine washing may seem like an ideal option because it is faster and easier, saving you the troubles of a manual washing and longer drying. However, keep in mind that this can be usually done for smaller cushions made from foam, polyester or similar materials that can be washed. A front-loading machine will work best.
Also, it's essential to make sure that the label or manufacturer of your sofa allows such cleaning. If unsure, we advise not to risk and stick to manual washing which we will look into afterwards.
But now, as far as machine washing is concerned, here is what you can do:
Remove the cover and put the cushion in the washing machine. You can also clean them both if your washer is big enough.
Make sure to switch the agitator of your washer off, otherwise, you risk damaging the cushion.
It's best to use a delicate cycle with slightly warm water, so you don't ruin the pillow.
After the cleaning cycle finishes, place your cushions outside to sundry. Depending on their size, your sofa cushions might take 1-2 days to dry completely. Hence the reason why it's highly recommended to wash them on a bright and sunny day.
As far as the removable cushion covers are concerned, here's how you can take care of them:
Unzip the covers and remove them from the cushions.
Zip your covers all the way up to protect them while being washed.
Use a mild detergent, and set your washer on a gentle cycle and cold water.
Don't rush! Ensure the covers are completely dry before placing them back on the cushions.
Option 2: How to hand wash the sofa cushions
Follow these steps if you prefer a safer way of cleaning your couch cushions:
Fill your bathtub with water – Add enough water so the cushion submerges. Also, something you shouldn't ignore is the bathtub's cleanliness because dirt can easily attach to your sofa cushion if it isn't clean. If you are able to, you can also clean cushions outdoors with a gardening hose, given that you have a large enough clean area to do the job.
The cleaning solution – Add half a cup of mild laundry detergent, used explicitly for cleaning delicates, to the bathtub water. Next, you would want to swirl the water around so the detergent mixes well with it.
Force the soapy water into the cushion – Press the pillow down as hard as possible in order to force the water into it. Start at one end and go all the way to the other and make sure you don't miss a spot. Another way of doing that is with your feet, that is, if you don't mind getting them wet. If you are afraid of damaging your cushion while pressing it hard, applying the soapy water with a sponge is an alternative way of cleaning it. Leave the pillow for about 15 minutes afterwards to soak. If there are any stains, you would want to scrub the affected area thoroughly by using a scrub brush.
Drain the tub and refill it back again – This step is essential because the water will get dirty eventually, after all, our goal is to clean the cushion perfectly. So, that being said, leave the pillow in and fill the tub with warm water again and mix in your laundry detergent, as mentioned above.
Rinse the soap out of the cushion – Do this by refilling the bathtub with warm water and submerging your sofa cushion again. Also, don't forget to clean as much dirt as possible. Another way of doing that is to spray the pillow by using the showerhead, which will also be a quicker way of rinsing it out.
Drain your bathtub – Start pressing on the cushion again, once the water has drained out. Similarly to step #2, work from one end to the other, making sure to squeeze out as much water as possible. You would want to go to the end, which is closer to the drain, while making sure you don't miss a spot. Generally, you would want to remove as much water as you can, because this will greatly reduce the drying time of the cushion.
Cover the cushion in towels – All you need is a couple of clean towels. Place some of them below the cushion and wrap it over the top. You can also place additional towels on top if you aren't able to wrap it up. Make sure to squeeze it as tightly as possible during the wrapping process. Also, don't forget to replace the towels when they become soaked.
Dry the cushion – Take the cushion to a well-ventilated area and leave it to dry completely. Preferably, place it somewhere outside on a clean surface (if the weather is sunny and warm). Alternatively, you can leave it in the bathtub, for instance, if the weather is rainy, but place it on one end in order for the bottom to dry. Keep in mind that drying time varies. It may take half an hour or more. To test if the cushion is completely dry – press a paper towel hard on it and check if it is moist.
if you are still unsure and want to avoid damage to your sofa cushions but also want them cleaned to perfection, scheduling a professional upholstery cleaning session might be the best option. The cleaning specialists are experienced enough to decide which is the best cleaning method for your specific sofa that willl be both safe and bring satisfying final results.
Count on a professional for the in-depth cleaning of your sofa cushions.
Enter your postcode to view our rates and availability in your area.
4. Tackle the most common sofa cushions stains
Stains from foods and beverages may be tough to remove for good once they set in, so dealing with the stain while it's fresh is very important and will make the work a whole lot easier. The job will be even twice as easier if you use the proper cleaning tools and solutions.
Warning: Please, remember to always test your cleaning solutions on a non-visible area of your sofa cushions and covers before the cleaning process! Having this in mind, we have gathered the most common stains on sofa cushions and the best ways to remove them.
Lifting coffee stains from sofa cushions
Imagine having a blissful morning. You made your coffee, got the book you would like to read and relax for a bit. But you, unfortunately, spill the beverage onto the sofa and sofa covers. Don't stress about it one bit! Just act quickly and the stain will be long gone.
While the coffee is still wet. Make sure to blot as much of the liquid as you can with a clean cloth or a paper towel.
Create a mixture of 2 cups of cold water and 1 tablespoon of bleach-free liquid dish soap.
Get another piece of paper towel and gently work the solution onto the affected area.
Remove the soap by wetting a clean towel with cold water and then blotting the surface.
If the method mentioned above doesn't entirely remove the stain – try applying a dry cleaning solvent to the coffee stain.
Cleaning red wine stains from sofa cushions
Having some people over for a glass of wine might be an amusing idea, but a couple of wine glasses is all it takes for a minor accident to occur. Simply make sure to act as quickly as you can.
Blot as much of the stain as possible with a paper towel while making sure not to rub it in.
Create a solution with two parts warm water and one part salt and scrub the stain thoroughly with a sponge.
Sprinkle some talcum powder over the affected area and leave it for approximately5 minutes.
After that, grab your upholstery brush and grind the powder in the fabric.
Drop a small amount of vinegar onto the stain and rub it in.
Apply a small amount of mild, non-bleaching liquid detergent to the stain, then use warm water and a sponge to clean it, and finally, blot the area with a paper towel.
Removing vomit from sofa cushions
Sometimes, there is no helping it. Cats have hairballs they want to let out, dogs occasionally consume "mystery treats", babies hiccup, or someone has the flu. All of those might result in an unpleasant puke all over the couch and couch covers, leaving you to have to deal with all the mess. Clean the stain as fast as possible to avoid damage to the upholstery and get that annoying task over with.
Remove the vomit particles as much as you can by using a spoon while also trying not to rub the liquid into the fabric.
Wet a sponge or a rag and wipe the affected area in order to remove the residue. After that, blot the surface with a clean cloth or a rag.
Spread a layer of baking soda onto the stain and let it set in for a few hours.
When the baking soda fully dries, hoover it off the cushion covers with the upholstery attachment of your cleaner.
Spread an enzymatic cleaner onto the vomit stain and leave it to air dry. Please check the instructions on the back of the product and follow them closely.
Cleaning urine from sofa cushions
You are probably wondering how to remove this pesky lingering smell and the stain your beloved pet left on the sofa and sofa cushions. Don't feel discouraged. You can easily remove both the nasty smell and the stain with the use of an enzymatic cleaner. Here is how the cleaning process goes:
When you go to the store looking for the right enzymatic cleaner, make sure you purchase one suitable for your sofa's fabric.
Use an old rag, which you must toss in the garbage after working with it. Blot the affected area with the rag to remove the excess pee. Avoid rubbing the stain because by doing so, you will only push it further into the fabric.
Soak the stain thoroughly with the previously bought enzymatic cleaner while also paying attention to drops/dribbles.
Let the solution sit for around 15 minutes to break the uric acid in the urine effectively.
Get another cloth and soak up as much cleaner and urine as possible. Repeat this step until there is no more moisture transferring to the rag. Keep in mind that you may need multiple rags for this step.
Finally, you need to let the area air dry. Rinsing isn't required, as the product evaporates and breaks down the uric acid into carbon dioxide and ammonia.
How to clean non-removable sofa cushions
You can still give your sofa cushions a deep and proper clean, even though they might not be removable. The cleaning method as well as the cleaning materials and detergents will depend on the stains themselves and the type of sofa you have. Here, we have compiled a couple of general sofa cushion cleaning tips that will help you easily tackle the problem!
Dust and hair removal – To make vacuuming easier, put on a pair of rubber gloves and go through the couch cushions so you can loosen the previously accumulated dust and hair.
Hoover the cushions – Thoroughly hoover the cushions by using the upholstery attachment of the device until the previously loosened dust and hair are gone. Now will be an excellent time to switch to a seams attachment so you can vacuum under the cushions too.
Remove stains – The most important thing to remember is to use cleaning products suitable for the sofa's fabric. This would either be a solvent or a water-based cleaner. After applying the cleaner, let it sit for a few minutes and then make sure to gently blot the stain with the use of a microfibre cloth. You would also want to make sure not to scrub the stain in, as you will push it deeper into the fabric and possibly damage the cushions. Also, keep in mind that tougher stains may require additional cleaning sessions.
Wash the cushions – Get yourself a bucket and fill it with warm water, then add half a teaspoon of dye-free dish liquid and mix well in order to create suds. The next step is to get your upholstery brush, dip it into the solution and gently run it across the cushions, making sure not to soak them. Afterwards, wipe your sofa cushions with a clean, damp cloth. All that's left is to let the couch cushions dry completely.
Still seeing stains on your favourite sofa? We can help make them disappear for good.
Enter your postcode to view our rates and availability in your area.
Takeaways
Look for the label of your sofa cushions before you attempt any of the above-mentioned cleaning methods.
Pre-cleaning your couch cushions before the primary cleaning process will make the job way easier.
Before trying to remove stains, test your cleaner in a non-visible area of your cushions.
Switch the agitator off if you would like to machine wash your cushions.
Image source: Ground Picture / Shutterstock.com