Last update: 4 months ago
It is spring cleaning time! The time of the year when cleaning product manufacturers boost promotions and ads, blogs and magazines flourish in spring cleaning tips and various campaigns launch.
Spring cleaning encourages everything from properly disposing of outdated pharmaceuticals to removing litter from t­he UK's parks. It's a collective movement that has established spring cleaning as a ritual throughout the modern world.
What is spring cleaning?
The meaning of spring cleaning stands for a thorough domestic cleaning of your entire home – room by room and top to bottom. A thorough cleanup includes areas you do not clean on a regular basis, such as cleaning beneath carpets and furnishing, on top of bookshelves and etc.
To spring clean means to clean up dirt from your ceiling all the way to your floor. It is indeed a broad definition – wiping and dusting off every surface and furnishing unit, decluttering and throwing away what you don't need.
When does spring cleaning start?

Different cultures have different traditions for detailed domestic cleaning. The spring clean-up can start anywhere from 1st of March and continue all the way until the end of April.
What day is spring cleaning day?
The spring cleaning day is a popular initiative where locals gather to take care of litter and junk from neighbourhoods, local parks, and often from wild nature areas as well. There isn't an exact date for national spring cleaning day. It instead depends on local community activities and organisations.
When is national spring cleaning week?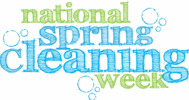 The National Spring Cleaning Week has supported the idea for in-depth domestic room by room and top to bottom spring cleaning since 2003. The campaign takes place in the period between the 6th and 12th of March.
Your spring clean can start whenever you feel like it. Just make sure you have a system! Check this spring clean checklist for inspiration.
Back in the day, homeowners had to keep winter cold out at all cost. People used coal, oil, wood, and everything was lightened by candles. Imagine the amount of dust, dirt, and soot they had to deal with! With spring on its way, homeowners had a green flag to freshen and clean up their homes and thus welcome the forthcoming new cycle of life. This usually happened with the first warm and sunny day.
How do cleaning and compulsive hoarding go together?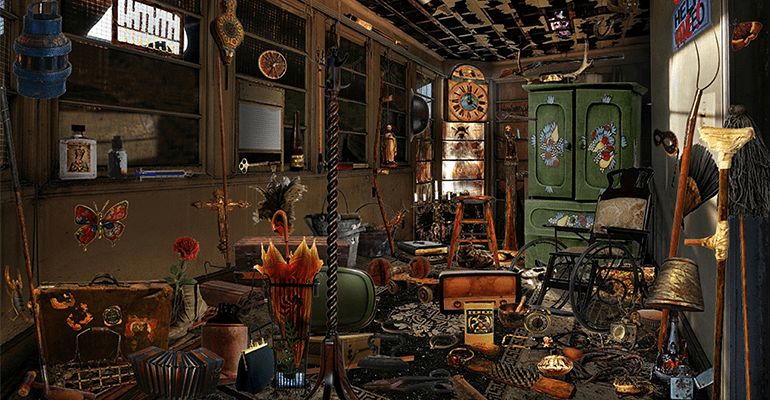 The truth is, spring cleaning isn't meant for each and all of us. According to official findings based on real fMRI (functional magnetic resonance imaging) scans, people classified as compulsive hoarders seem to trigger specific parts of the brain, responsible for handling unhappy and sad emotions when faced with cleaning up.
These observations occurred when subjects had to face a decision to either throw or keep random items at home – old mail, magazines, various litter, and sometimes even paper clips. This is often referred to as a type of mental disease and requires professional help.
2-5% of UK's population are considered compulsive hoarders
These are all people who simply refuse to let go of large piles of stuff they don't need – pens, old notebooks, clothes, vases, and even silly notes. For the rest of us, spring cleaning is simply part of the natural way of being. The rewarding feeling of a fresh and cleaned home, along with satisfaction from cleaning itself, is a direct result of the neurological way in which our brain rewards us for being tidy and conscientious.
Many are able to handle domestic chores in-home, but how many homeowners, tenants, or landlords will use a ladder to wipe and polish windows, exterior facades, and gutters? How many actually have a ladder or any of the other tools necessary for the job?
If you are in the same boat, there is nothing wrong with calling for professional help. Gladly, services like one-off spring cleaning exist. This service is usually scheduled for a deep clean that is only needed occasionally, such as before or after a party, or to prepare your home for sale.
Difficult chores and hard-to-reach areas require delicate know-how and specialised gear especially when it comes to carpet cleaning and upholstery cleaning (for both options: hot water extraction cleaning or the moisture-free dry chem treatment for delicate and sensitive fabrics). Other domestic chores such as oven valeting also require specialised gear and previous experience.
What is the origin of spring cleaning?
What's the truth behind spring cleaning's inception? How far does it go back in time? Well, it has its roots in a couple of old traditions dating back to ancient times, up to 3000 years b.c. and the same time, spring cleaning seems to be a crucial part of our nature as human beings.
Spring cleaning and biology
In reality, spring cleaning has more to do with human biology than anything else. We are less active and motivated during the cold winter days and there's a good reason for that. As a species, our behaviour is bound to the cycle of seasons. Due to the lack of sunlight during drab winter days, our brain produces larger amounts of melatonin – a chemical responsible for making us sleepier.
"It's common to let your home get a bit messy around the edges during winter time." – Dmitri Kara / Fantastic Cleaners
Melatonin levels are bound to the amount and frequency of sunlight exposure we get. The more time we spend outside, the less we produce the hormone of sleepiness. Some say that to "spring clean" means to wake up from a melatonin-induced slumber of spirit and mind.
Spring cleaning and traditions
Here are a few of the possible origins of spring cleaning and how they measure up to what we understand about it today:
The ancient Iranian Festival of Nowruz
Also known as the Persian New year, it commences on the vernal equinox, known as the first day of spring (often March 21st). Iranians still practice "khooneh tekouni" or "shaking the house" prior to Norouz. This ritual house clean up is the prototype of spring cleaning, where the entire home is thoroughly wiped and polished. This ancient tradition comes with a change in clothing and various post winter repairs.
Norouz festivities take place for two weeks and people often visit each other's homes while celebrating. Although known as an Iranian tradition, spring cleaning dates back to more than 3000 years b.c. It has been observed in Scotland and Ireland as well.
The Jewish tradition of spring cleaning
Some researchers trace spring cleaning origins back in history to the ancient Jewish custom of thoroughly cleaning the house in preparation for the springtime feast of Passover (usually around April).
Jews are bound to avoid leavened food throughout the entire holiday. Even the tiniest of "chametz" crumbs count. That's why conscientious Jews carry a thorough spring clean of their entire home. In fact, having the slightest sign of leavened bread at home while Passover lasts is considered as ungrateful and is strictly forbidden.
Rightful Jews cannot afford to insult God, and that's why people aim to perfectly wipe and mop their homes room by room, from top to bottom. This equivalent of spring cleaning is followed by a ritual hunt for chametz crumbs by candlelight, the night before the first day of Passover.
Spring cleaning in the Northern parts of Europe and America
In most northern regions of America and Europe, where the climate is continental and quite damp, the custom of spring cleaning had a purely practical application. Late winter to early spring was the best time to thoroughly dust your home because the weather is warm enough to let fresh air in and chilly enough to keep out any insect infestation. People no longer had to heat their homes and could finally get rid of soot and ash marks.
Spring cleaning and Catholic traditions
According to Catholic customs, the Church altar is wiped to perfection on Maundy Thursday, right before Good Friday, along with all its surroundings. The Greek Orthodox Church encourages spring cleaning in the first day of Lent, known as Clean Monday.
This corresponds to the Julian New Year on April 1st. Cleaning altars may not be the exact definition of spring cleaning, but it is understandable why it could have lead to annual domestic cleaning throughout Christian communities.
Spring cleaning roots and China traditions
Prior to the Chinese New Year, Chinese celebrate the holiday of Ninyabaat. Festivities usually start on the 28th day of the 12th month of the Lunar calendar.
"Wash away the dirt on Ninyabaat" – a Cantonese saying.
The essence of this tradition encourages cleaning bad luck and misfortune out of your home along with tossing rubbish and broken households to align with Feng Shui practices. Traditional Buddhist and Taoist homeowners honour statues and altars prior to the Chinese New Year. Old altar ornaments are either thoroughly wiped or replaced with fresh decorations.
The Chinese extensively wipe and mop ceilings, walls, and floors. Sweeping is considered forbidden for at least the first few days of the Chinese New Year. This is done so no lucky fortune gets "swept away". Once cleaning is done with, the Chinese people hang paper couplets to attract fortune and good luck.
Do you need your home thoroughly cleaned?
Enter your postcode to view our rates and availability in your area.
The history of spring cleaning
Although most of the thorough spring cleaning tips in Beeton's guide are meant for servants and housekeepers, the greater part of domestic chores was and still is mostly handled by women/maids. Here's a quote from the manual:
"…[i]t is usual to begin at the top of the house and clean downwards; moving everything out of the room; washing the wainscoting or paint with soft soap and water; pulling down the beds and thoroughly cleansing all the joints; 'scrubbing' the floor; beating feather beds, mattresses, and paillasse, and thoroughly purifying every article of furniture before it is put back in place. . . This general cleaning usually takes place in the spring or early summer, when the warm curtains of winter are replaced by the light and cheerful muslin curtains. The same thorough system of cleaning should be done throughout the house; the walls cleaned where painted, and swept down with a soft broom or feather brush where papered; the window and bed curtains, which have been replaced with muslin ones, carefully brushed, or, if they require it, cleaned; lamps not likely to be required, washed out with hot water, dried, and cleaned."
And here's another quote from a journal entry in 1850, part of "The history of Housekeeping" exhibition in 2000:
"I swept and dusted sitting-room & kitchen 350 times. Filled lamps 362 times. Swept and dusted chamber & stairs 40 times." – Lydia Maria Child/Women's rights activist.
Next one is taken from Washington Post, about the biggest annual spring clean up.
"A layer of soot and grime in every room.
Lamps back then ran on whale oil or kerosene. Both required heat from coal or wood, so you can just imagine the mess…
Predecessors of spring cleaning products
Before the boom of the Industrial Revolution and the emergence of top-shelf detergents, housekeepers and maids only relied on heavy scrubbing and DIY household solutions. Some of the most common were lime juice, tea leaves, vinegar, salt and even gin, which was mentioned in an 1850 cleaning manual as a solution for polishing mirrors.
The first ever electricity-powered, mechanical vacuum cleaner was released in the early 20th century.
The famous Lysol detergent was released in the late 19th century. It became known as a clever solution for restricting the Spanish flu.
Good old DIY soap stepped down in sales to pave the way for synthetic products in 1953. The main reason was fat and oil scarcity, because of WWI and WWII.
The myth of lemon scent

Despite progress in technology, methodology, and products, there are things about spring cleaning that will never change. Nowadays, lemon scent is the most popular with detergents. We have accustomed to the smell and many associates it with hygiene, which could often be more misleading than true.
"We've made it all rather complicated with a dozen different chemical sprays, for bathrooms, for kitchens, for wooden furniture, for windows … which could be happily replaced by a gallon container of distilled vinegar… – all without the synthetic odour of artificial pine."
"We like a 'clean' smell, which is not the smell of an absence of dirt but the smell of whatever chemicals are in the cleaning product we use."
Lethbridge is the author of a history of the largest single occupation in 20th century Great Britain: Servants: A Downstairs View of Twentieth-Century Britain. @ Wikipedia
Why is spring cleaning important?
It's that time of year again: the time to open up the windows, let in some fresh air, and deep clean our homes. Spring cleaning isn't just an excellent way to get rid of dust and dirt; it can also be beneficial for our health and wellbeing. Here are a couple of reasons you should prioritise spring cleaning this year:
Better air quality
It's essential to do some deep cleaning in the springtime to get rid of all the dust and allergens that have accumulated over the winter. This is especially important as we enter allergy season. You want to avoid bad air quality in your home, so it's best to take care of it now.
Spring cleaning reduces stress and anxiety
Cleaning and organizing your personal spaces can give you a sense of orderliness and control. The act of decluttering can be therapeutic, providing a much needed release from everyday stressors. Even simply having a clean and tidy living area can help lower your stress levels.
Spring cleaning helps with focus
By removing clutter and getting rid of messes, you are helping your brain focus on the current task. A messy environment with too much stimulation can make it difficult for your brain to process information. So by decluttering your space, you are giving your brain a break and making it easier to focus on what is important.
Spring cleaning increases productivity
It's no secret that a tidy home can lead to a more productive lifestyle. That's why spring cleaning is so important – it declutters your space and gives you easier access to the things you need. But it's not just about cleaning; it's also about reorganizing for a more efficient system of where everything goes. So get ready to roll up your sleeves and make your home work for you!
Book one-off cleaning and get your home perfectly cleaned!
Enter your postcode to view our rates and availability in your area.