Last update: 4 years ago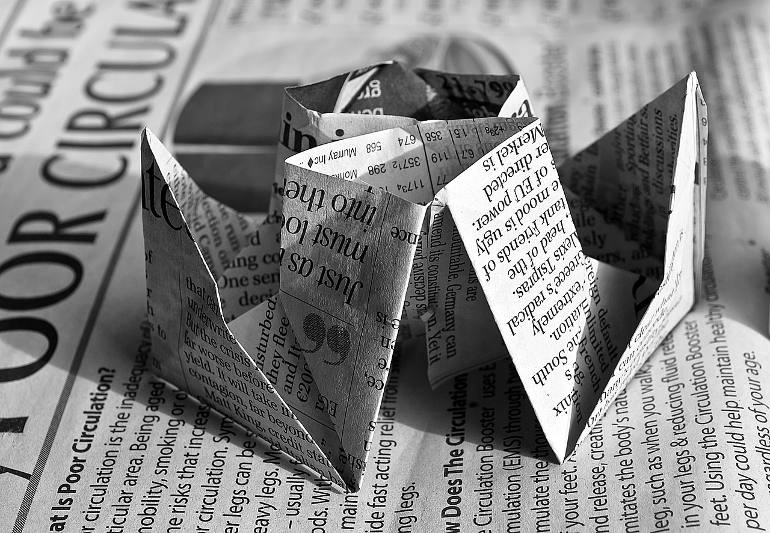 What material is number one in the hard waste flow? Before you shout out "plastic!", why don't you look around your classroom? What do you see? Posters? Notebooks? Boxes? Textbooks? Tables, decorated with colourful paper? There lies your answer. Paper is everywhere.
Paper comes in different sizes and shapes. It can be glanced or rugged, thin or dense. It can be a newspaper or a component of a diaper.
What is Recycled Paper?
The recycled paper is made of disposed paper, mixed with fresh wood pulp. If the paper contains ink, it has to be removed. Almost all kinds of paper can be recycled today, however, some types are harder to recycle than others. Paper covered with wax, paste, rubber, plastic or aluminium foil is usually not suitable for recycling, because the whole process becomes too expensive. Other types of recycled paper usually are not recycled together. The waste paper must be sorted out beforehand. You should never mix newspapers and boxes together for recycling.
The different qualities of recycled paper are used in different new products. Old newspapers are turned into new newspapers, egg boxes or carton. The high quality office paper can be turned into almost any new paper product – office supplies, newspapers, books or magazines.
Unlike other recycled materials, paper cannot be recycled again and again. Sooner or later, the threads become too weak or short to be reused. That's why during the production of the new paper products, the new wooden fibres are mixed with recycled paper. Most of the boxes today are a mix of 50% new and 50% recycled fibres.
How to Recycle Paper at Home
Did you know you can, in fact, contribute to the environment very easy at home? The process of recycling paper can be reproduced, following several simple steps: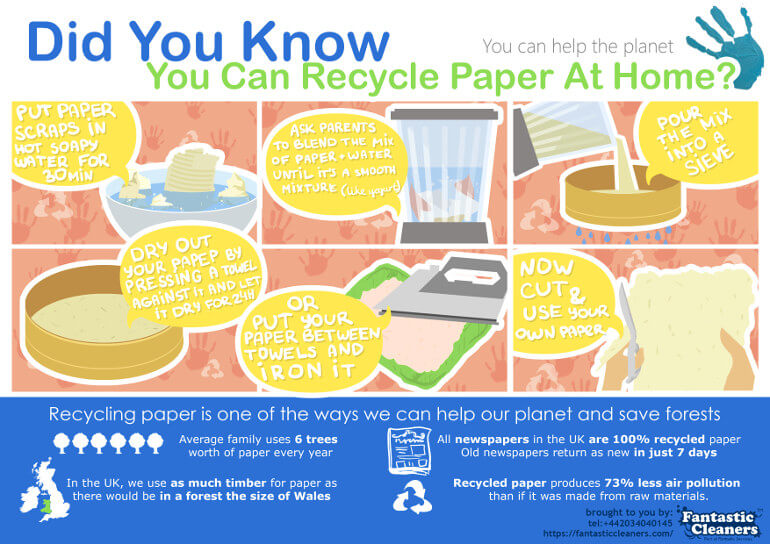 More Facts about Recycled Paper
The process of recycling an old newspaper into a new one takes seven days.
The average UK household uses paper that amounts to 6 trees every year.
The country's annual usage of paper amounts to a forest the size of Wales.
Out of all paper and cardboards used in the UK, 67% are recycled.
100% of UK newspapers are made of 100% recycled paper;
The majority of the toilet paper is, in fact, made of recycled paper.
Same is the deal with corrugated cardboard packaging.
Air pollution reduces by 73% if recycled paper is used instead of raw materials.
About 12.5 million tonnes of paper and cardboard are used in the    United Kingdom every year.
Nearly 38 kg of newspapers pass in front of the eyes of the average Brit each year.
A ton of newspaper equals 24 trees.
Nearly 1/3 of all the domestic rubbish is made up by paper.
Over to you:
Do you recycle paper at home? Do you know the different ways to recycle paper? What other items you recycle? We would love to hear some interesting comments on the topic below.