September 19th, 2016
Fantastic Team
Go Green
Last update: 6 months ago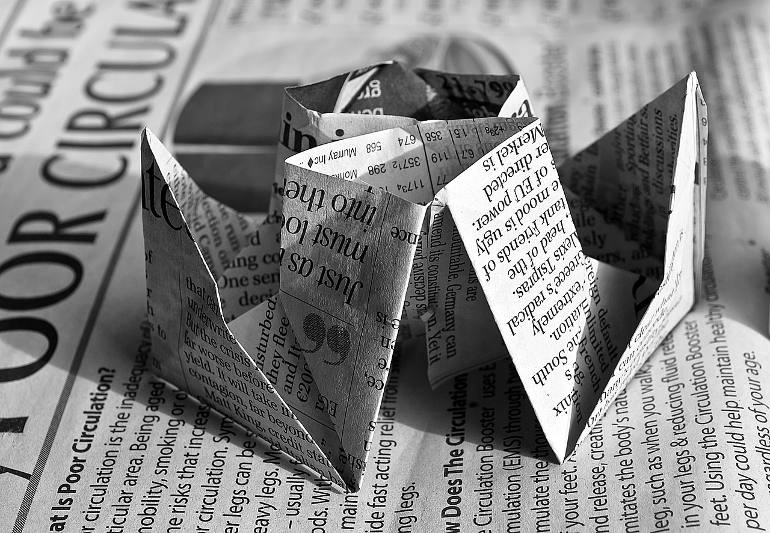 What material is number one in the hard waste flow? Before you shout out "plastic!", why don't you look around your classroom? What do you see? Posters? Notebooks? Boxes? Textbooks? Tables, decorated with colourful paper? There lies your answer. Paper is everywhere.
Paper comes in different sizes and shapes. It can be glanced or rugged, thin or dense. It can be a newspaper or a component of a diaper.
What is recycled paper?
The recycled paper is made of disposed paper, mixed with fresh wood pulp. If the paper contains ink, it has to be removed. Almost all kinds of paper can be recycled today, however, some types are harder to recycle than others. Paper covered with wax, paste, rubber, plastic or aluminium foil is usually not suitable for recycling, because the whole process becomes too expensive. Other types of recycled paper usually are not recycled together. The waste paper must be sorted out beforehand. You should never mix newspapers and boxes together for recycling.
How to recycle paper at home
Did you know you can, in fact, contribute to the environment very easy at home? The process of recycling paper can be reproduced, by following several simple steps:
Place your blender on a solid surface. Fill the blender with paper and water. Make sure you use double the amount of water as there is paper.
Blend until the contents are thoroughly pulped and mixed (they should resemble a thick soup).
Pour the mixture into a sieve and use a spatula to smooth any lumps and bumps.
To dry out your paper, simply press a towel against it and let it sit for 24 hours. For a quicker option, you can iron the paper between two towels.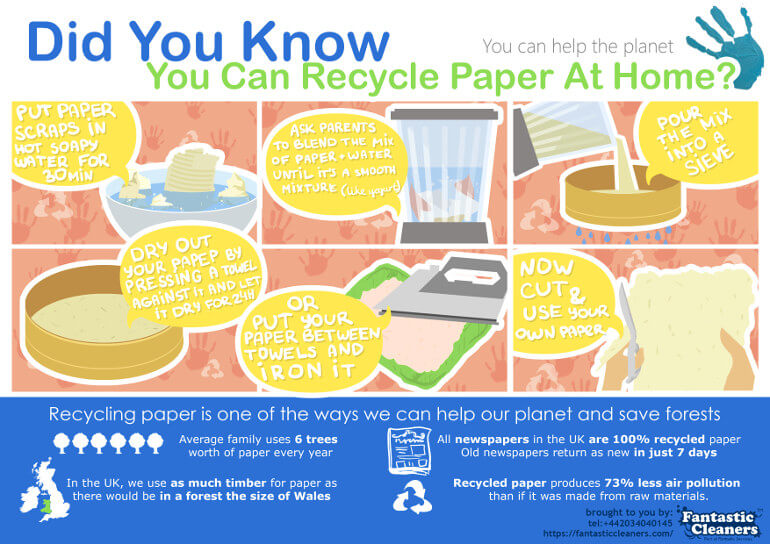 Benefits of recycling paper at home
There are many benefits to recycling paper. Recycling paper can help save trees, water, and energy.
When paper is disposed of in a landfill, it decomposes and releases methane gas. Methane is a greenhouse gas that contributes to climate change. Burning paper also releases carbon dioxide, another greenhouse gas. To help reduce emissions of these gases, it is important to avoid the excessive production of paper.
Paper that is recycled saves energy. It takes 70% less energy to make paper from recycled paper than it does to make paper from wood or virgin fibres. That means that recycling paper can help conserve energy.
Reducing the number of raw materials used (trees felled): For every ton of recycled paper, the equivalent of 12 trees (4m3 of wood) are saved.
Did you know that recycling paper can save up to 80% of water compared to making paper from scratch?
Paper recycling is a very effective way of reducing gas and water emissions. A study showed that recycling paper can lead to a 74% reduction in gas emissions and a 35% reduction in water polluting emissions.
By recycling paper at home we reduce the waste sent to landfill.
How many times paper can be recycled for use
The quality of the paper affects how often it can be recycled. Long fibres in high-quality paper (such as office paper) shorten every time the paper is recycled, so it can only be used five to seven times. In contrast, a lower quality paper may only be able to be recycled once.
The different qualities of recycled paper are used in different new products. Old newspapers are turned into new newspapers, egg boxes or cartons. The high-quality office paper can be turned into almost any new paper product – office supplies, newspapers, books or magazines.
More facts about recycled paper
The process of recycling an old newspaper into a new one takes seven days.
The average UK household uses paper that amounts to 6 trees every year.
The country's annual usage of paper amounts to a forest the size of Wales.
Out of all paper and cardboards used in the UK, 67% are recycled.
100% of UK newspapers are made of 100% recycled paper;
The majority of the toilet paper is, in fact, made of recycled paper.
Same is the deal with corrugated cardboard packaging.
Air pollution reduces by 73% if recycled paper is used instead of raw materials.
About 12.5 million tonnes of paper and cardboard are used in the United Kingdom every year.
Nearly 38 kg of newspapers pass in front of the eyes of the average Brit each year.
A ton of newspaper equals 24 trees.
Nearly 1/3 of all the domestic rubbish is made up by paper.
Need help cleaning and organising your home?
Enter your postcode to view our rates and availability in your area.
Do you recycle paper at home? Do you know the different ways to recycle paper? What other items you recycle? We would love to hear some interesting comments on the topic below.