August 2nd, 2017
Fantastic Team
How to's
Last update: 3 months ago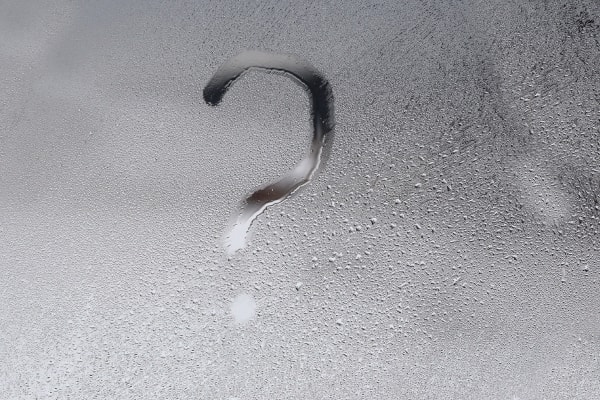 Source: Shutterstock / Author: Venera Salman
Condensation is unpleasant and unwelcome wherever it rears its damp head. It looks bad, can ruin curtains or blinds, and can even lead to patches of damp and mould forming. No matter how often you wipe away the water it always gathers again as if to mock the futility of your actions, don't lose hope.
With this guide, we will show you how to stop condensation throughout your home, car, and garden shed.
What is condensation?
Before we jump into solving your condensation woes, it is important to understand what condensation is and how it forms.
Condensation is basically water in the air coming into contact with a surface, such as a window or a wall, with a lower temperature than the air. The cold surface forces water in a gaseous state to cool down to such a degree that it reverts to its liquid form, the cooled water droplets then cling to the surface.
If this is left untreated it can cause paint to peel as well as unsightly growths of black mould which can spread to curtains and furniture, this mould can also lead to a variety of health problems such as bronchitis, and among the heftiest tasks for move out cleaning.
Condensation symptoms and causes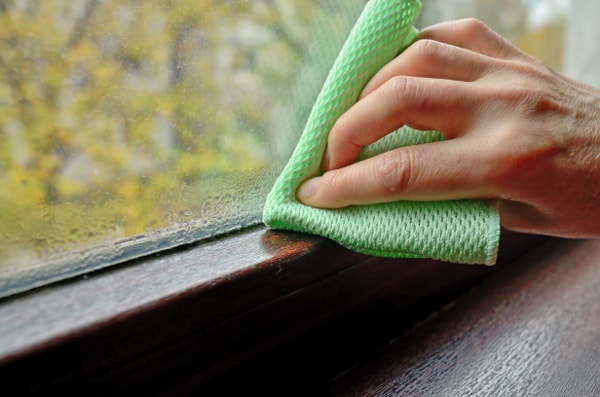 Source: Shutterstock / Author: icarmen13
As mentioned above, condensation is caused by the water in the air rapidly cooling upon contact with a cold surface. There is always water in the air but the amount can be greatly affected by many factors, the most common of which are as follows.
Time of year and humidity – The season and humidity levels play a large role in the chances of condensation forming. You are far more likely to notice condensation during the winter months due to the cold weather, keeping your windows closed, and using the central heating more often. The opposite is true during the summer months since the air is often drier and windows are kept open for longer, this is why you are unlikely to see condensation in the summer.
People breathing – We are all constantly adding to the humidity of the air by simply breathing, with each breath we exhale we are also expelling water vapour. The average adult will breath out approximately 4 cups of water every day, each person in your household contributes to this molecular tsunami.
Cooking/kettles – Both cooking and boiling the kettle are major culprits when it comes to adding water to the air. All of that water vapour has to go somewhere.
Drying clothes on radiators – Another huge contributor to the household humidity level. Drying clothes on radiators, especially during the winter, pumps a horrendous amount of water into the air. You may have seen condensation on the wall above the radiator, this is a tiny fraction of the water vapour released.
Bathing/showering – It almost goes without saying that taking a bath or shower releases a lot of water into the air.
Now that we have explored some of the most common causes of condensation it is time to discuss its symptoms. After this you will be able to implement the treatments below before condensation becomes a major issue. The tell-tale signs of condensation are:
Visible drops of water on the inside of windows;
Pools of water on windowsills;
Damp patches on walls, especially external walls;
Damp patches in the corners of the room or on the ceiling;
Black mould growing on the tops of walls, ceilings, behind furniture, the grout between tiles, window sills, and window frames.
If you have found one, or several, of these symptoms, then you have a condensation issue.
How to deal with condensation
Source: Shutterstock / Author: zlikovec
The question of how to get rid of condensation depends on how severe the issue is. The core of all treatments is two simple steps (improve ventilation and heating) and as the severity increases the core is supported by a number of additional measures. First, we will outline some basic steps for fighting condensation and then we will detail the treatment method for specific areas below.
How to get rid of condensation
Improve ventilation. A well-ventilated home is essential when combating condensation, the water-laden air inside your home will slowly but surely be replaced with drier air from outside. Keeping windows open for as long as you can, or as long as it is safe to, is an easy way to improve ventilation in your home.
Improve heating. Setting your heating to maintain a warm ambient temperature will reduce condensation and damp by slowly warming the walls and other surfaces. Avoid using gas-powered heaters as they produce an ungodly amount of moisture.
How to stop condensation on windows
Wipe the affected windows with a squeegee and dry the window, windowsill and surrounding area with a towel.
Open the windows to let damp air out and dry air in.
Install weather strips to stop cold air entering through the joints and frame.
Install trickle vents. These vents help to improve ventilation when it is inconvenient, or unsafe, to leave your windows open for an extended period of time.
How to stop condensation on double-glazed windows
Follow the same steps as above except for number three, the seals built into the frames are usually more than enough to keep cold draughts outside where they belong.
How to stop condensation on walls
Open as many doors and windows as you can to get the air moving.
Keep a small gap between your furniture and walls, this will ensure there is adequate airflow throughout the room.
Make sure your home is properly heated during colder months.
Stop drying clothes on radiators. If you don't have any choice but to dry clothing indoors, dry them in a separate room with an open window and close the door.
How to stop condensation in the bathroom
If your bathroom has a window, keep it open as often as possible.
Always use the bathroom fan when bathing or showering. If your bathroom doesn't have a fan, consider having one fitted as they are a tremendous help in the battle against condensation.
Wipe down any wet surfaces with a squeegee or cloth when you are finished bathing or showering.
Keep the fan running, or window open, for at least an hour after you finish using the bathroom.
Shut the bathroom door to stop the moist air infiltrating the rest of your home.
How to stop condensation in the kitchen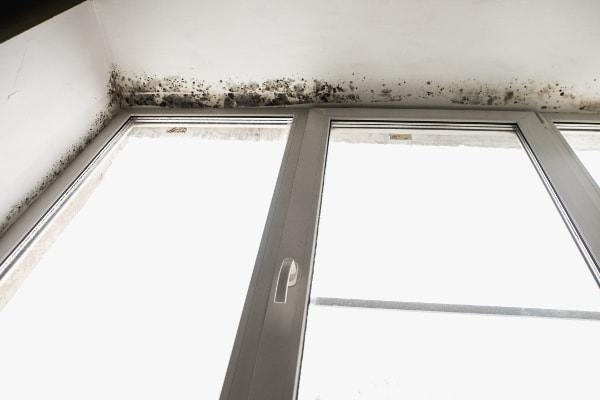 Source: Shutterstock / Author: Burdun Iliya
Improve the ventilation by keeping windows open as much as possible. Open a window when cooking or boiling the kettle to give the moisture somewhere to go that isn't your walls or ceiling.
Always use an overhead extractor fan while cooking and, if possible, when boiling the kettle.
Use pan lids when cooking, not only will this reduce the cooking time it will also stop a ridiculous amount of water from being released into the air.
Keep the window open, and the extractor fan running, for at least an hour after you finish cooking.
Your home is not the only place that can fall victim to condensation, cars and garden sheds are just as vulnerable to the ravages of moist air.
How to stop condensation in the car
Treating condensation in your car is easier than you may believe, follow these steps to fix your wet windows.
Don't leave your damp belongings in the car, think jackets, towels, and umbrellas.
Keep your car clean inside and outside. Most modern cars have tiny holes in the chassis to aid airflow which are easily blocked by dirt due to their size Regularly cleaning your car will keep these air holes open. Don't forget to clean the inside face of the windows either, accumulated dirt gives water an extra surface to cling to which allows more condensation to form.
Let the car air as often as possible, open the windows and sunroof for a few hours on warm days if it is safe to do so.
To get rid of condensation when you first get in the car you should wipe the windows with a cloth or squeegee, switch the heaters on at the highest setting and point them towards the windows. If this is taking too long, open a window a little bit to improve the airflow. Don't start driving until the condensation has completely cleared, the reduced visibility can be fatal.
How to stop condensation in the garden shed
The humble garden shed is a refuge for countless people throughout the country, it is where we store gardening tools and indulge in various hobbies. So the last thing you want is for damp and mould to take hold, potentially damaging the contents of your shed.
The good news is that if you spot condensation it is quite easy to fix.
Proper ventilation is key to curing your shed of condensation, most sheds are well ventilated simply due to their construction. But if the air inside feels stuffy or stale, it is best to install two vents, one on the front wall and one on the back wall.
Air the shed regularly.
Make sure there is a gap between the shed wall and the walls of any other buildings nearby.
Consider replacing the roof with a metal one, or simply paint the roof black or dark green. This will capture more heat and raise the temperature inside the shed.
How to prevent condensation
Source: Shutterstock / Author: Burdun Iliya
Now that you've put in the hard work to dry your home and get rid of the condensation, the last thing you want is for the condensation to return.
Following the advice above is a great way to prevent condensation, but there are some other measures you can take to decrease the chances of condensation rearing its ugly head once more.
Monitor the indoor humidity levels, this is a surefire method of combating condensation. Thanks to the wonders of modern technology, there are many cost effective digital hygrometers (humidity meter) which display the current temperature as well as the humidity level. When using a hygrometer you should aim for a humidity level of between 40%-50%.
Buy a dehumidifier. If you live in a high humidity area or the condensation keeps reoccurring, you may consider buying a dehumidifier. These fantastic machines do what you would expect them to do, namely, they remove moisture in the air to make it less humid. A good dehumidifier left running overnight, or during the day, can remove up to 12 litres of water from the air in a 3-4 bedroom house. This may increase your electricity bill but this cost will be offset by lower heating bills as the house dries out. Another advantage is that you can close the windows during the colder months and still effectively manage condensation.
Perform an inspection of your home. Check the interior and exterior walls as well as the roof for any damage that could be allowing water or cold air to enter, fixing these issue can help stop condensation as well as improving the energy efficiency of your home.
Also, check the gutters, make sure they are not blocked or damaged and can drain water easily. If the water is flowing out of the gutter and down the wall you will have a serious issue with damp sooner rather than later. If you are wondering what is the cost of a professional gutter clean, read our post on how much a gutter clean costs.
Need your gutters checked and cleaned?
Enter your postcode to view our rates and availability in your area.
So there we have it, your guide to stopping condensation throughout your home. The main points to remember are to keep your home well ventilated and properly heated, by doing these two things you will greatly reduce the chances of condensation forming.
Did we miss anything? Do you have any tips for getting rid of condensation at home? Let us know by commenting below or give us a shout on social media!