November 14th, 2016
Fantastic Team
How to's
Last update: 2 weeks ago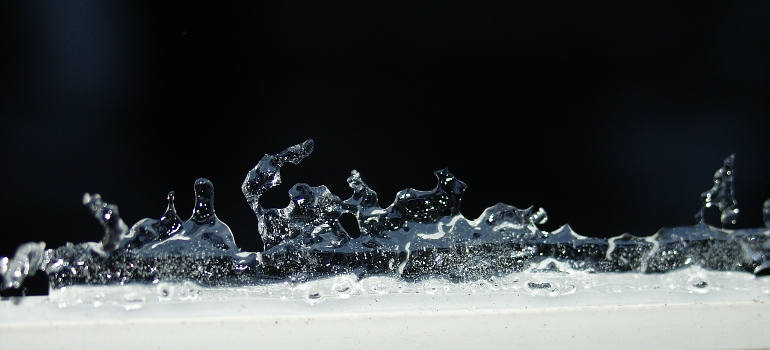 Constant condensation on your windows is a prime reason for window sill mould. It easily turns into a tenacious problem that has the potential to throw into despair even the most composed homeowner. Yet, despite the solution being time-consuming and requiring some safety precautions, it's highly effective.
What causes mould on window sills?
Mould is a type of fungus that thrives in moist environments. When water leaks onto a window sill, it provides the perfect conditions for mould to grow. Bathrooms and kitchens are particularly susceptible to this problem because of the high humidity levels often found in these rooms. If left untreated, mould can cause serious damage to your home and pose a health risk to you and your loved ones.
Avoid structural damage and potential health problems by identifying the source of moisture and fix it as soon as you can. Some common causes of moisture that can lead to mould growth are:
Damaged gutters;
Leaking pipes;
Rising damp;
Condensation buildup;
Inefficient heating system;
Poor ventilation.
Cleaning supplies you need
The basic things you need for removing mould off window sills are:
Gloves
Bleach
Rag
Brush
Plastic Tarp
Garbage bag
Depending on the amount of mould and the time you'll spend cleaning, you might need some more tools and some safety gear – rubber gloves, a pair of glass goggles and a face mask If the sills are made of wood, you'll also need:
Goggles
Dust mask
Sandpaper
Paint
Paintbrush
You can replace the bleach with:
Vinegar and ammonia solution;
Vinegar and baking soda solution – even though it's not effective after several minutes, its initial reaction is strong enough to deal with mild mould;
Dishwasher soap;
How to clean window sill mould
Equip with a safety kit – First off, make sure you don't accidentally burn yourself with the acidic detergents. Put on rubber gloves to protect your hands. If you prefer to be extra careful, a pair of glass goggles from the convenience store will do the job, as well as a face mask for extra protection against inhaling mould spores. You never know how much mould has accumulated and how long you will have to scrub it off.
Safe-proof the cleaning area – In order to avoid splatters all over the place, put a plastic tarp or a large garbage bag under the window you are going to clean. The tarp is more appropriate since it can be positioned stationary on the ground, but if you don't happen to have it, you can use a rubbish bag as well.
Let air in – Before you tackle the dirt, open the windows and ventilate the place. This way some of the mould spores will fall outside. Leave the window open while and after cleaning for some time – this way the detergent fumes will evaporate as well.
Mix your cleaning solution and start scrubbing – Pure bleach will be too strong, even if the mould stains have been quite persistent and it can damage the window. Therefore, dissolve one part of bleach in three parts of lukewarm water. Dip the brush into the solution and scrub away the mould. Afterwards, wipe away the scraped particles with the rag.
Dry and wipe – Let the window sill dry out and then scrub off the mould that's still hanging there. Use the rag, dipped in clean water. Before you close the window, make sure you let the sill air dry completely.
Sand the window sill – If you're removing mould on wood window sills, use sandpaper to scrape the remaining mould stains. Remove the sawdust with your vacuum cleaner. It will take more time if the wood has been painted beforehand – you'll have to prime and repaint it in order to completely restore its initial appearance.
Dispose of the safety gear – Remove the plastic tarp, fold it so that the dirt won't fall off and throw it out in a garbage bag.
How to prevent mould on window sills
If you have mould in your home, we strongly advise you prevent it from returning. A cleaning solution that kills mould can help, but you will also need to address the underlying conditions that allowed the mould to grow in the first place. Check your windows for leaks, moisture on the windowpanes, or other issues that could be providing a moist environment for mould to grow. Consider these additional mould prevention tips as well:
Make sure to always turn the bathroom fan on while you shower and the extractor fan when cooking.
Consider investing in a dehumidifier if you have any rooms in your home that are damp for prolonged periods of time, such as basements or bathrooms.
Remove your houseplants from the window sills as they release moisture.
To ensure good ventilation and fresh air in your home, open windows and curtains for a few minutes each day. Doing this every day for 5-15 minutes will help improve airflow throughout the house.
Prevent leaks by applying caulk to the window edges.
Following the above-mentioned tips will greatly reduce the chance of mould returning to the area, regardless if you have timber, aluminium or UPVC windows.
Need your windows professionally cleaned?
Enter your postcode to view our rates and availability in your area.
Did you find the post helpful? Let us know what worked best for you if you had any previous issues with window sill mould. We'd love to hear from you!