Last update: 6 days ago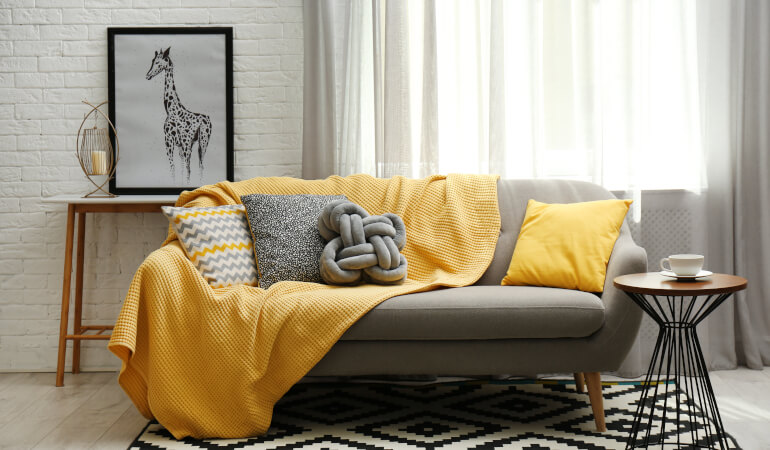 If you want to refresh your home or anticipate guests, washing your sofa covers can make all the difference in creating a comfortable and inviting living space. From everyday wear and tear to more stubborn stains caused by food and drink spills, washing your sofa slipcovers is a crucial step in maintaining your furniture's cleanliness and appearance.
However, to properly wash sofa covers, it's essential to check the care label for any specific washing instructions. Some covers may require a specific washing temperature or gentle cycle, while others may need hand washing.
So, how to wash sofa covers? We'll reveal this, but first let's clarify something important.
Can you put the sofa covers in the washing machine?
The washability of your couch's covers depends on the type of fabric they are made of. Certain fabrics are suitable for machine washing, while others are not. To check whether your cushion covers can be washed in a machine or not, look up the label information, here is what you may see:
Cotton sofa covers – Set the temperature to 40°C or lower. It's important to refrain from wringing out the cover, even if it's soaked with water.
Polyester sofa covers – Utilise your washing machine, ensuring that you don't use bleach and select a temperature setting of 40°C or lower. Additionally, avoid wringing the cover.
Polyester Petite sofa covers – Make sure your machine is set to the default settings, and wash your cover at or below 30°C without bleach. Again, do not wring the cover.
Velvet – To effectively clean velvet fabric, use the delicate cycle setting in your washing machine. Fortunately, velvet is a simple fabric to clean, so simply toss your cover into the machine and set the temperature to a maximum of 40 degrees.
Premium Velvet – This fabric is incredibly easy to clean, and stains can be removed quickly. To clean it, remove the cover from your furniture and toss it in the washing machine. Use a gentle cycle and set the temperature to a maximum of 30 degrees.
Tetron Cotton – To avoid damaging the material, it's important not to use bleach when washing. Stick to a temperature at or below 40 degrees and refrain from wringing the covers when they're wet.
However, if you can't find any labels, consult with the manufacturer. Attempting to wash non-machine-washable sofa slipcovers may damage the fabric. Some fabrics cannot be washed in a machine due to the fibres used in the weaving process. This could lead to discolouration or other type of damage. Moreover, the casing may shrink or stretch and elongate over time, making it unfit for your sofa.
Still not sure how to properly clean your sofa covers? Let the professionals take care of it! They know which materials can be steam cleaned and which could benefit from the dry cleaning method. Learn more about our upholstery cleaning practices and deals.
Washing sofa covers in the washing machine
In order to prevent any damage, it's important to take certain precautions when washing sofa covers. The safest approach would be to wash them using a cold, delicate cycle and a dye-free detergent or pod. It's also crucial to ensure that the slipcovers will not colour any other laundry you plan on washing with it. To avoid the latter, it's best to use colour-absorbing sheets, especially during the first wash. Here's how to do it step-by-step.
Vacuum: Use a vacuum cleaner to remove any dirt or debris from the sofa covers while they're still on the sofa. This is also a good time to clean away as much pet hair as possible, using a specialised pet hair removal tool to prevent blockages in your washing machine.
Work on stains: Next, tackle any visible stains by using a specialised stain remover, always do a patch test first. Once the stains have been lifted, remove the covers.
Pop the covers into the washing machine: If the covers are small, two or three can be washed at a time. However, avoid overfilling the machine with too many large covers, as they may not be washed properly and come out wrinkled.
Add a mild or dye-free detergent to the machine: Again, avoid bleach or fabric softeners that can damage the fabric or alter the colour. Start the cycle as normal.
Dry the covers completely: Once the cycle has ended, remove the covers and allow them to dry naturally.
Can I put sofa covers in the dryer?
It's best to hang or line dry the sofa covers, rather than using a machine dryer. This is because the heat from the dryer could potentially damage or shrink the fabric. By letting them dry naturally, you will ensure that your sofa slipcovers remain in good condition after washing.
Washing sofa covers by hand
Machine washing may not be as effective as expected, especially if there are stubborn stains from greasy food or urine. This is where hand washing can prove the better method, as it allows you to treat stains and get them out successfully with a little manual work.
What you will need:
Vacuum cleaner
Gloves
Fabric stain remover
Washing liquid
Warm water
Soft cleaning brush
Hoover the covers: Go over the covers while they are still on the sofa. This will remove any visible dirt or pet hair.
Take care of stains: If there are any stains present, blot any excessive material, then pre-treat them using specialised stain remover or homemade products like vinegar, baking soda, etc. Always make sure to do a patch test first!
Mix the cleaning solution: Combine half a teaspoon of mild detergent with warm water in the bathtub or wash basin.
Soak and scrub the covers: Soak well the covers, then gently rub the stained areas. Do not use too much force or you may damage your covers. Let them soak for a little while.
Dry your sofa cushion covers: Allow the covers to dry naturally and avoid sitting on them until they are fully dry. Keep in mind that when there's manual washing, your covers will take longer to dry. By following these steps, you can effectively clean your sofa covers without damaging or discolouring the fabric.
How often to wash your sofa's covers
You can do a full clean every two to three months, depending on your needs and sofa usage. However, if you regularly cook or smoke in the premises where the sofa is situated or have kids and pets, cleaning could be done more frequently.
If you live in a busy household and your sofa covers get dirty quickly, it's recommended to wash them at least once a month for hygiene purposes. To prevent dirt from building up, it's advised to vacuum your sofa covers once a week. Additionally, it's important to remove stains as soon as possible to prevent them from setting in.
To sum it all up…
Washing your sofa covers can be an excellent way to maintain the appearance of your couch, but it's important to be cautious. Keep in mind that washing the covers can cause some fading, so it's recommended to test a small, inconspicuous area before proceeding with any cleaning.
Once you've learned how to treat stains and wash your cushion covers, whether by hand or machine, you'll be pleased with the results. With your cushions looking fresh and clean, you can fully enjoy your living room.
We can give your sofa a well-deserved makeover with our deep cleaning and eco-friendly solutions. Book easily online!
Enter your postcode to view our rates and availability in your area.
Image source: New Africa / Shutterstock.com