November 5th, 2021
Fantastic Team
How to's
Last update: 4 months ago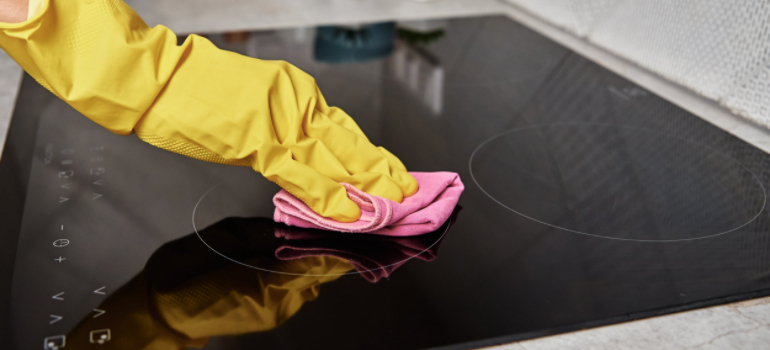 Food can burn and get stuck on whether you have a ceramic, induction, solid-plate electric, gas, and gas on glass hob. We all know that cleaning the stove immediately after cooking is the best way to prevent spills and splatters from hardening. However, more often than not, this remains wishful thinking, and we postpone the job for another day.
Fortunately, the experienced cleaners we work with have some tricks to share, so the next time you ask yourself "how to remove burnt-on grease from stove top", you will know how easy it could be. So get ready to learn some secret tricks to get rid of burn marks from your cooktop by only using essentials hiding in your kitchen cupboards.
Now, let's get down to work! Here is how to clean a burnt-on stovetop, depending on the type.
How to clean a gas stovetop
Cleaning a gas stovetop can be slightly more complicated than cleaning an electric one, but still, you need only few things to complete the task:
Please, turn off all the burners on your gas hob and leave them to cool before cleaning to prevent injuries.
Take the grates off and place them in warm soapy water to soak for 15 mins. If the grates are in bad condition, soak them in vinegar and leave them overnight.
Remove the burner rings and caps.
Make a baking soda and water paste and apply the solution by using a soft sponge. Leave it for 15 mins. If the burn stains are stubborn, add vinegar to the mixture.
To clean the burners, you need to mix 50/50 water and vinegar in a spray bottle and apply the mixture. Leave it to stay for 15-20 minutes.
Use a non-abrasive pad or toothbrush to remove any food residue.
Rinse off with a damp cloth and dry completely before returning the burners, rings and grates to their places.
While the parts are drying, you can clean the entire stove top surface.
Tip: Try out a gas range protector if you want to clean your gas hob less frequently. They are dishwasher safe, withstand extreme heat and are made to fit different stove sizes.
How to get burn marks off ceramic stove top
Let's see now how to clean regular ceramic stovetops in more detail. The job is relatively simple. It is advisable that you use a soft, non-abrasive sponge/cleaning cloth and mild detergents. We also recommend using a natural solution made from vinegar and baking soda to get rid of burn marks. Follow the simple steps below to achieve brilliant results:
Pour some white vinegar into an empty spray bottle and spray a thin layer, enough to cover the stovetop.
Sprinkle a generous amount of baking soda on top.
Place a hot, damp towel over the newly created solution on the stove and wait for 10-15 minutes.
Remove the towel and wipe clean with a damp cloth.
If you have left the stains for a more extended period, here is another step-by-step guide to follow when you have to clean a burnt ceramic or glass stove top:
Apply a generous amount of dish soap over the burned area.
Then spray it with white vinegar and let it stay for 30 minutes.
Then take a sponge and scrub the surface to lose the residue.
Take a razor blade scraper to remove the top layer of the dirt.
Take a damp towel and remove the cleaning solution.
Then take the razor blade scraper, angle it and use only the edge of it to remove the remaining grime marks.
How to clean induction hob burnt on
Induction stoves are a popular choice, however, they scratch very easily. They are in effect made from the same glass-ceramic material as the regular ceramic type of cooktops. So, harsh detergents and abrasive cloths can damage them, therefore you need to be careful when getting rid of burn marks. Here is an easy and safe way to clean an induction stovetop:
Combine equal amounts of baking soda and vinegar in a spray bottle.
Spray the solution and wait 15-20 mins.
Wipe the stovetop clean. Repeat if necessary.
Remove hard food residue using a scraper gently at a 30-degree angle.
To make the surface glossy, spray the surface with a glass cleaner.
How to clean an electric stovetop with hot plates or coil rings
Some electric stovetops, usually made of enamel, porcelain-enamel blend or stainless steel, have hot plates or coil elements. If you have such a cooktop and you are wondering how to clean electric hob rings, check our step-by-step guide below:
Turn off the cooker from the mains, first.
Remove the coil burners from the stove, referring to the manufacturer's instructions.
Wipe loose debris away from the coils with a damp soapy cloth.
Similarly, wipe down the stove. Be careful not to make any electrical connections wet.
Make a paste from baking soda and water to remove any stuck-on grease. Let it sit for 20 mins.
Clean off the baking soda paste.
Dry the stovetop and the burners, then install the burners back in place.
How to clean a stainless steel stovetop
Similarly to the examples above, vinegar and baking soda are safe to use on stainless steel stovetops, whether they are electric or fuelled by gas. Apply a baking soda paste, then spray over with vinegar. Wait for a few minutes and wipe clean, following the grain direction. However, if you want to try a different method, here is another suggestion:
Mix 1 tablespoon lemon juice and 1/4 cup liquid dish detergent in a cup of warm water.
Soak a clean cloth with the solution and gently rub the stainless steel hob with it.
For stubborn stains, place the damp cloth on the stove and leave it for 30 mins.
Scrub gently to remove loosened debris using a sponge or a rag.
Wipe the surface clean.
Tip: it's not advisable to keep your shoes in the bedroom, so if it's possible, put them somewhere else.
How often should a stovetop be cleaned?
Cleaning the stovetop is not among anyone's favourite chores. Many prefer to put off the task. But stovetops, like any other kitchen appliances, need to be taken care of regularly. The question is how often should this regular care be performed?
As tiresome as it may sound, stovetops should be cleaned daily, or every time they have been used. Wiping any food residue away from the surface is usually enough. See it that way, less grime build-up means less elbow grease from your side later on. So, it's best to clean the top surface of your cooker after cooking a meal if needed. And when it comes to deep cleaning your appliance, once a week or every two weeks will be generally sufficient to maintain it in immaculate condition.
Takeaways
So, there we have it, your guide for cleaning burnt residue from a stovetop.
Remember that it's best if you clean your stovetop immediately after use and deep clean it once or twice a month to maintain the appliance free of burn marks and stuck-on stains.
Try using a natural homemade mixture of baking soda and vinegar, it's an excellent solution for breaking down burnt-on stains.
Remember not to use harsh detergents and abrasive sponges when cleaning glass, electric regular and induction stovetops.
Consider booking a professional oven deep cleaning service if you don't have the time or the skills.
Need a professional cleaner?
Enter your postcode to view our rates and availability in your area.
Did you find this blog post helpful? Let us know in the comment section below!
Image source: Shutterstock / Lazy_Bear