Last update: 9 months ago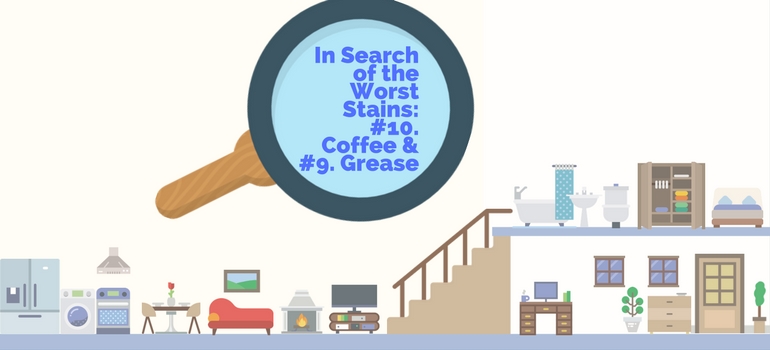 Here at Fantastic Cleaners, we are always looking for ways to help you tackle housework. Which is why we are happy to introduce a new series of articles aimed at helping you remove some of the toughest stains we've all encountered… ever!
Removing coffee stains
Coffee spills can happen at any time, usually at when-we-least-expect-it o'clock. And anyone who has been in a similar situation will tell you just how difficult it can be to remove coffee stains. It doesn't have to be this way, however. With these tips, you will have that stain removed in no time so you can get back to enjoying your day.
Coffee stains on shirts and other clothing
If you spill coffee on yourself, or someone else spills coffee on you, it is easy to think that your clothes are now ruined. But if you follow these steps, it will be as if the stain had never happened.
Soak the item in warm water for 30 minutes or blot the stain with a cloth and warm water.
Apply stain remover to the affected area.
Wash the item as you normally would. You can put a small amount of chlorine bleach in the washing machine if it is safe for the type of fabric.
Coffee stains on the carpet
The carpet is often the biggest victim of coffee spills and no matter how quickly you act to soak up the coffee, it manages to leave an unsightly stain. Now, you may be tempted to simply rearrange your furniture to hide the stain but deep in your mind, you will know it is still there taunting you. Use the steps below to remove the stain once and for all.
Soak up as much of the coffee as possible with a cloth or paper towels.
Mix one tablespoon of liquid dish soap with one tablespoon of white vinegar and two cups of warm water.
Using a clean cloth, apply the mixture to the stain with a blotting action one small bit at a time.
Blot the stain with a dry or damp cloth until there is no trace of the stain.
Lastly, blot the area with cold water and use a clean, dry cloth or paper towels to dry the area.
Coffee stains on the sofa
We've all been in this situation. You get home from a long day at work and all you want to do is sink into the sofa to relax. But through the actions of a pet, child, or just sheer clumsiness, your coffee is knocked over and it starts to make itself at home on your sofa and not inside your stomach. Instead of getting frustrated, just follow these steps and the stain will be gone in a short amount of time.
Mix one tablespoon of liquid dish soap with two cups of warm water.
Using a clean cloth, blot the stain with the mixture until it starts to disappear.
When the stain is gone, blot the area with cold water and a clean cloth.
Dry the affected area with a dry cloth or paper towels.
 Removing grease stains
Grease and oil are among the most stubborn stains to remove due to their water-resistant nature. If you have items with these types of stains, don't throw them away just yet. The following steps can help you banish grease stains and let you reclaim your clothing:
Place the item of clothing on a pile of paper towels with the stain facing down.
Use an oil solvent to break down the grease which has bonded with the fabric. Allow the solvent to dry and then rinse in warm water.
Lastly, machine wash the item on the highest temperature setting.
If you don't have an oil solvent, you can use the following removal methods:
Cover the stain with baking soda, salt, baby powder, or any other absorbent powder and allow it to sit for up to 30 minutes.
Gently brush off the powder. Try not to rub it into the fabric.
Machine wash on the highest temperature setting.
In a situation where the stain persists after following the above steps, try the following:
Cover the stain with liquid dish soap and let it sit for around 5 minutes.
Blot the stained area with a clean cloth and warm water.
Machine wash the item on the highest temperature setting.
Need a Cleaner?
Enter your postcode to view our rates and availability in your area.
So there we have it, the first part of our series on removing the toughest stains imaginable. With this guide, you will be able to deal with coffee or grease stains quickly and easily. Never again will you have to hide that coffee stain on your shirt or throw away clothing that you stained while cooking!
Icon credits: Smash Icons; Pixel Buddha; Freepik @ FlatIcon