Last update: 6 months ago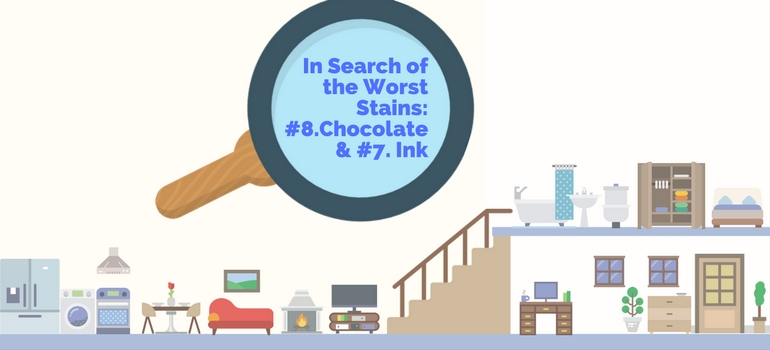 In continuation with our toughest stains challenge, we are moving on to numbers 8 and 7 of the top 10 toughest stains to remove. This time around, we're tackling chocolate and ink.
Most of us have experienced these stains at some point, whether it is by spilling a chocolate pudding, sitting on chocolate flakes,  misusing a pen, or getting splashed with ink during an art project. There are an untold number of ways in which these stains can happen, and although children appear to be magnets for every stain imaginable, adults are just as susceptible to such accidents.
Don't worry though. With this step-by-step guide, you will have those pesky chocolate and ink stains removed in no time.
Chocolate
When you find a chocolate stain, instead of reaching for a cloth to attempt an immediate clean-up, you should allow the chocolate to harden and gently remove as much of it as possible. It may seem counter-intuitive to allow a stain to dry before trying to remove it. However, with the steps below, you can easily remove chocolate from fabrics such as cotton, nylon, linen, and polyester.
Blot the stain with a mixture of water and liquid dish soap to remove any excess chocolate. For milk chocolate, substitute liquid dish soap for ammonia. For dark chocolate, use two tablespoons of white vinegar. Do this gently to avoid grinding the stain further into the fibres.
Rinse the back of the affected area under cold running water. Ideally, you should use a tap but, if this is not possible, you can submerge the area in cold water instead.
Rub biological laundry detergent into the stain until the fabric has absorbed the detergent. Try not to be too rough while doing this so you don't damage the garment.
Soak the garment in a mixture of cold water and laundry detergent (the ratio of water to detergent should be two cups of water per one tablespoon of detergent) for 15-20 minutes. Check and gently rub the stain every 5 minutes to loosen the chocolate.
You can now wash the garment as you usually would but if the stain persists, repeat steps 2-4 until it is gone. Don't forget to ensure that the chocolate has been removed before drying or ironing the garment.
Ink
As there are a great number of methods to remove ink stains, we have chosen the tree most effective ways of removing ink from fabric. We've also listed one additional method for cleaning other items, such as children's toys.
Soak the stained garment in milk overnight and then launder as usual. This method is best used on coloured clothing.
For white clothes, place a cloth or a towel beneath the stained area and apply hairspray until the stain is completely saturated. Then, blot the spot with a clean cloth until the stain is removed. After this, simply launder as you normally would.
Another odd, yet effective, method of removing ink stains is with the use of tartar sauce. Mix two tablespoons of tartar sauce (or tartar cream) with two tablespoons of lemon juice until they form a paste. Apply this paste to the affected area and allow it to sit for three to four hours. Afterward, remove the dried paste and wash the item as per usual.
For children's toys and other such items, cover the stain with butter and leave it in the sun for a few days (it's weird, we know, but it works). After allowing it to sit in the sun, simply wash the affected area with warm, soapy water and watch in amazement as the ink is removed.
Need a Cleaner?
Enter your postcode to view our rates and availability in your area.
So, there we have it, your guide to removing two of the toughest stains we have encountered. Trying to remove stains can be a frustrating and disheartening experience but, with this guide, you will be able to laugh in your f stain's face all day long.
Icon credits: SmashIcons; Pixel Buddha; Freepik @ FlatIcon