Last update: 4 weeks ago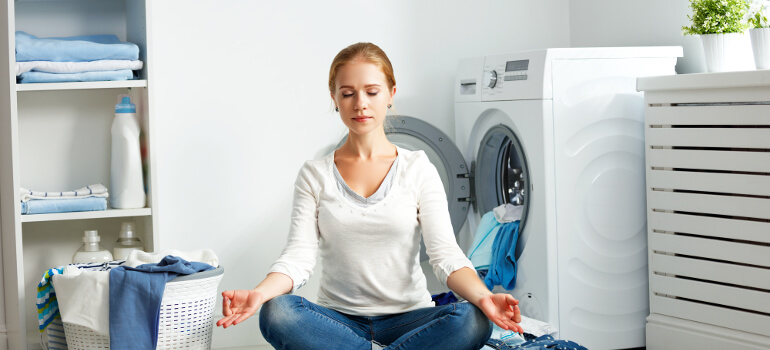 How clean is clean when it comes to decluttering and deep cleaning your home this spring?
Wouldn't you agree that there's nothing more satisfying than wiping all the winter blues by letting the sunshine into your home through a sparkling clean window…
And when you look around, not to spot a speck of dust nor a silvery cobweb in the corner? Well, while most folk will just get on with the much-hated spring cleaning task by adding a few extra chores on their regular cleaning checklist, there is a group of people who will admit that the big day makes them tingle with anticipation.
Say "Hi" to the compulsive cleaners!
So, let's see if we can learn a few useful "obsessive" cleaning tips from those who take comfort in cleaning meticulously their home all year round.
Here's our room-by-room list of some of the most helpful obsessive-compulsive cleaners' tips that you can incorporate when sanitising your home this spring. Find the OCD person inside you and make those doorknobs and window tracks spotless!
Bathroom OCD cleaning tips
Here are some extra ideas on how to remove those hard-to-clean grimy spots from surfaces and fixtures that you can include in your general bathroom cleaning routine.
Say goodbye to toilet limescale with cheap white vinegar.
If you have problems with getting rid of any hard-water deposits from the toilet bowl or you want to clean the black mouldy ring around the rim, white vinegar will help. Empty the water out of the bowl, first, and pour some cheap white vinegar inside. Leave it overnight.
The acidic substance will disintegrate all the limescale or mouldy stains in a breeze. Flush the toilet on the following day and get amazed by the results. And if you are still hesitant about how to approach the task, why not check out these toilet limescale removal myths, which we have personally tested?
Wipe shower screens fast with washing liquid.
They are often a pain to clean with a store-bought glass cleaner. And every attempt to remove the soapy deposits results in unsightly smears. Instead, try the following tips: Put a few drops of mild washing up liquid in a bowl of warm water. Wipe each panel with a sponge, dipped in the solution and dry quickly with a kitchen roll. The trick here is speed.
When the shower head gets blocked by limescale…
The shower head not only accumulates bacteria but it can also get blocked by limescale over time. So, to clean it and get the water flow back to normal, unscrew the head and dip it in a bowl of diluted bleach. Use gloves when you rinse it thoroughly before re-attaching it.
Clean all bathroom accessories.
To bring the shine of your chrome or stainless steel bathroom accessories, such as towel and soap holders, racks and shelves, use a sponge and a homemade paste of baking soda and lemon. Wipe dry with an old tea towel. A final polish with a drop of baby oil on a piece of cloth will do wonders, too. To get rid of damp is often a struggle but at least, you can wipe around.
Scrub soap out of tiles and grout.
Soap stains on tiles and mouldy spots on the grout can be also eliminated without the use of harsh chemicals. Again, mix the juice of one lemon with some bicarbonate of soda to get a paste-like substance. Apply generously on a sponge and wipe clean the tiles. For the grout, you'll find the task much easier if you use an old toothbrush.
Kitchen spring OCD cleaning tips
As the kitchen is where you prepare food, a little OCD in your cleaning approach this spring won't hurt.
Clear neglected food storage.
Let's be honest! How often do you go through your kitchen cupboards or pantry to get rid of expired canned food and open packages of grains, where moth larvae are feasting away? So, it's time to do it. Throw away everything that you wouldn't feel comfortable eating and wipe clean the powdery food residuals and sticky stains from the kitchen unit shelves.
Clean your dishwasher from food debris.
We often assume that because dishwashers operate at high temperature, using water and a detergent, it stays clean at all times. But now and again, and why not this spring, you need to check and clean the filters from any food remnants and greasy deposits.
Refer to the manufacturer's instruction booklet and access both the mesh filter and main filter, after removing the bottom basket, first. Clean the filters in a bowl of soapy water and rinse with boiling water at the end. Check the dishwasher sump for pieces of food, too, before placing the filters back in position.
When the oven gets too greasy and smelly…
Spring is a good time to clean thoroughly your oven. The traces of all those hearty Sunday roast meals, you never missed to cook this winter, can't be removed in a wipe. So, prepare yourself to use a little elbow grease and follow our detailed oven cleaning guide for best results. For a professional-grade job, book the Fantastic Oven Cleaners' team.
Wipe clean the toaster.
Hmm, how often do you clean your toaster properly if ever? You may empty occasionally the bottom tray from the crumbs and quickly wipe the top surface but that's about it. Well, an obsessive-compulsive cleaner can teach you that germs love toasters, despite the high heat.
So, clean it thoroughly this spring by brushing the inside elements with a toothbrush, first. Don't forget to unplug the device, of course! Then, wash and dry the bottom tray, and polish the surface on the outside.
Clean the sink drain and faucet.
The sink drain harbours all sorts of bacteria and slimy microscopic organisms that feed on food bits and grease. Sooner or later, it will start to smell if not disinfected on a regular basis. You can use a number of natural ingredients that can be safely mixed and poured down the drain. Just remove the strainer and treat the pipes to a deep cleansing wash made of white vinegar, lemon and baking soda.
Another obsessive-compulsive cleaners' tip can make the faucet tip like new. Just tie a small plastic bag, filled with white vinegar, around the kitchen sink aerator and leave to soak overnight.
If your washing machine stinks…
Yes, we can hear you. Why clean an appliance that is designed to wash things? Well, if it uses water, there is every chance that the device will eventually suffer from a hard-water deposit buildup. So, check out this spring cleaning tip on how to descale your appliance OCD style:
Run two separate hot water cycles. When the machine fills with water, add baking soda during the first cycle and white vinegar during the second one. Ensure to wipe the washer's tub in between cycles.
OCD cleaning touches for your living room
And no, we are not going to talk about dusting the top of the bookcase or vacuuming under your sofa. These are a must during a good spring clean. Here's a list of all the stuff you can polish in your living room, study or dining room that people simply ignore or feel too knackered to clean after they've done everything else:
Dust the shelves in between books and why not clean each individual book?
Repeat the above with the CD racks, old tapes and vinyl records, if you own any.
Give a thorough polish to every figurine that is sat on your mantelpiece or window ledge.
Wipe clean plant leaves of the sticky dust to give them a thriving boost.
Did you know that you can safely clean oil paintings with a cloth, dipped in beer?
Revive your leather sofa and armchairs the right way.
Consider a professional hot water extraction carpet treatment. Learn more about HWE here, and more about pricing and cost here.
Get your dinnerware and glassware, locked away to use only at Christmas, a good clean.
Re-organise and declutter all you paperwork folders by throwing away junk mail, etc.
Get "obsessed" throughout the house.
Extend your cleaning obsession this spring to other fixtures throughout your home that you would normally skip cleaning.
Clean gooey dust from window and door tracks.
These accumulate dust, which turns gooey from condensation or the moisture, generated during wet weather conditions. To clean the window and door tracks, you can use the good old white vinegar again and some old cotton cloths. For help with cleaning the exterior of windows, consider a professional water-fed pole cleaning service.
Don't forget the skirting boards.
Wiping the skirting boards of the built-up grime with a sponge, dipped in warm soapy water, will bring out the colour of your walls. You'll be amazed at the results and may find that your house looks as if it's been newly refurbished with fresh-painted walls.
Polish the handles and knobs.
Spray all window and door handles, as well as knobs of wardrobes, drawers and storage units, with a multi-purpose cleaner to remove germs and bacteria. After all, you touch them all they long to open and close doors and windows without giving much thought to the fact that they are an easy source of cross-contamination.
Look up to the curtain poles.
Yes, we know. Who would ever notice the dust on your curtain rails or poles? Well, this might look like a true OCD cleaning chore but it needs to be done once in a while. And don't risk breaking an arm by using a stepladder. Instead, get an extension duster. You'll see that it will take you no time to clean your curtain rods from the accumulated dust and the silky spider webs. For draperies and curtains full of dust, consider professional curtain cleaning.
Wipe gunk off light switches with a microfibre cloth.
Like door handles, you turn on and off switches around the house on a daily basis. And this never prompts you to run and wash your hands every time you touch the fixtures… unless you are a bit on the OCD side. Anyway, it makes sense to wipe the gunk off sockets and switches now and again. This is best done with a microfibre cloth.
To clean visible sticky spots, dip an ear cotton bud in a dish of soapy water, vinegar or any general cleaning solution and dry the fixture with a cloth or paper towel. Never spray a detergent directly towards an electrical fitting, of course!
So, there you have it, a list of ideas on how to get your home spic and span in an OCD fashion.
And in no way, this post intends to underestimate the implications that the actual medical condition may have on someone's life. To ease the burden, book your regular domestic cleaning with Fantastic Cleaners.
Do you need a professional cleaner around the house?
Enter your postcode to view our rates and availability in your area.
***
Do you have any meticulous cleaning tips for this coming spring? We'd love to hear them down below in the comment section.