February 20th, 2017
Fantastic Team
How to's
Last update: 6 months ago
Journals, TV shows, the Internet – they are filled to the brim with unique home improvement ideas that get you all excited… until you reach out for your purse or wallet and find out that you're nowhere near their asking price.
But that's alright because, after hours of navigating through the web jungle, we found 15 ways in which you can update the looks of your home without having to borrow money from your bank or, God forbid, your mother-in-law. Did we manage to get your attention? Alright then, let's not waste your time any further and cut straight to the chase.
1. Use the power of decoupage to create a hand-painted effect
Stemming from the French word découper ("to cut out"), the art of decoupage can be applied to just about any object. If done right, the varnished cut-outs will appear to the casual observer as though they were masterfully painted on the surface. And the best bit is that your project doesn't really require anything special other than some run-of-the-mill glue and some pretty-looking paper. But hold on, what kind of paper exactly? Well, anything goes! Decoupaging makes it easy to decorate a room with things you already have. Here are a few examples.
Bought a few too many flower-decorated paper napkins? Grab some scissors, glue the cut-outs to undyed eggs, and marvel at the result. Have the sheet music of Paganini's Caprice no. 24, but no violin to play it on? Use those to cover the interior of your trinket box and make it twice as classy. Is your file cabinet looking rather bland? Wrap it with a map of your favourite town! Want a more artsy vase? Journal clippings are your solution. Is your… well, you get the idea.
2. Add an extra touch of personality with improvised decorations
When thinking of ways to make your house beautiful on a budget, always pay attention to the little things in your surroundings. For instance, you can swap the generic-looking table runner for a big and fuzzy scarf, some kind of patterned fabric, or even a former window panel (because why not). Or you can decorate your empty mantelpiece with an extravagant jar filled with seashells, stones, a tiny scented candle, and a dried starfish. Or, if you have too much jewellery on your hands, then feel free to place those inside a few shadow boxes and carefully hang them on your walls.
3. Cover your home's flooring with… colourful stickers!
That's right – the market is flooded with these things now more than ever, so it's really easy to snatch some top-notch stickers for practically nothing. For example, you can decorate your kitchen tiling with some happy-looking fruits & veggies. Or glue motivational quotes on every step of your staircase to read them as you walk up. And if you're willing to stretch your budget further, you could even bring your bedroom or living room one step closer to nature by applying a realistic 3D sticker of a beautiful scenery… or launch it straight into space with a breathtaking representation of the Milky Way.
4. Get yourself some low-maintenance flowers
While flowers are a cost-efficient way of adding some excitement to your home, they are often a hassle to look after. But that is now a thing of the past. Busy homeowners rejoice – there are a surprising number of plants out there that don't require you to pick up the watering can multiple times a week. Succulents are one such pretty example. Sporting exotic shapes and ranging from spring green to red & violet hues, these small cabbage-like plants require nothing but a weekly shower. Usually, these plants thrive in areas with dry air and lots of sunlight.
Another safe bet is the snake plant, more commonly known as "mother-in-law's tongue" (maybe the toxic green colours have something to do with it). Anyways, this plant is pretty easy to keep alive as it requires low to medium sunlight and can survive on a quarter cup of water once every few weeks. Other virtually indestructible plants include sago palms, the beautiful begonias & orchids, and air plants (the latter don't need soil to thrive and you can suspend them in midair).
5. Make good use of your dusty family photo albums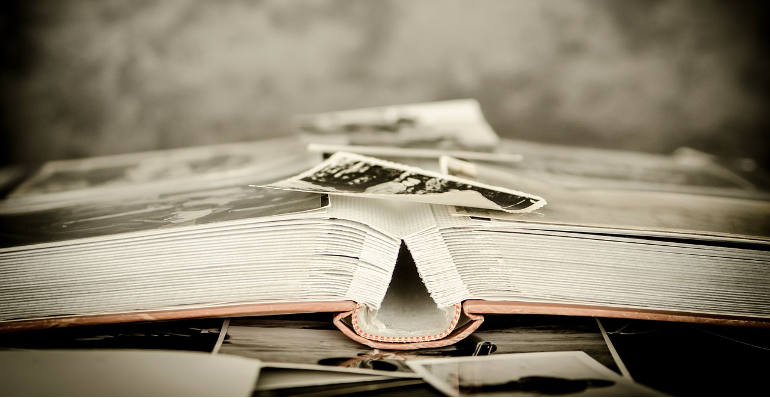 Have you ever hunted for a specific picture so badly that you've wasted half an hour going through countless pages and wishing there was a search function? Well, we can provide you with an efficient solution to your problem that doubles as an attractive home decoration. Here's how it works – just find some spare laundry pins, prop them across the wall using wire, and hang all your favourite photos. In case you can't find any you like, you can do the same with your birthday and holiday greeting cards. Besides looking good, this small change will also give you a surge of morning motivation which, as we all know, is in woefully short supply on Mondays.
6. Pick up the broom and give dust a hard time
The harsh truth is that, no matter how many interesting objects you have in your property, they will never shine through if placed next to some century-old stains and blankets of dust. So, one of the best and cheapest ways to make your property instantly better is by doing some good old wiping and scrubbing. And we're not just talking about washing last night's dishes. Here are a few things you should consider doing if you want your cleaning spree to make a difference.
Wiping all of your furniture inside and out with a damp cloth is just the start. While vacuuming your floor, pay extra attention to your rugs as they filter out a lot of the dirt and are usually crawling with bacteria. Don't forget to clean your oven, fridge, microwave, and other kitchen appliances to eliminate unwanted smells. And make sure to grab some sturdy rubber gloves and give your bathroom a thorough scrub. If all of this seems like hard work and you're scrambling for free time, then it would be a good idea to book a professional cleaning service instead.
Need a Cleaner?
Enter your postcode to view our rates and availability in your area.
7. Small rugs make everything bigger and better
If you are living in a cramped flat like most Londoners are, you probably know that making good use of your available space (or its lack thereof) is a tad tricky. But do not fret, for there are oodles of illusionist tricks that you can use to your advantage. Let us introduce you to the small rug ruse. Just find a small carpet that matches your flooring's colour and place it in the middle of your living room, bedroom, or dining area. Then, proceed to centre your furniture around it. This will trick your visitors into thinking that there's more space than there actually is.
8. Put the "mirror" back into smoke & mirrors
Don't worry – we're not asking you to buy a smoke machine. What we're talking about is yet another way to expand a small living room using a bit of "sorcery". If you're working on a tight budget, we suggest getting a used mirror (these usually go for around £10 or less and have a more rustic appeal, which in our eyes is an added bonus). Once you find one, position it opposite a window to add an extra dimension to your room and make it appear twice as big.
9. Stand out with mismatched couch pillows
When buying a new sofa, your friends have probably given you the advice of choosing comfortable pillows that match its colour. But just think about this for a second – do you really want to adorn your black leather seater with similarly inky cushions? What we suggest instead is to create a stark contrast between the two. For instance, instead of making the aforementioned sofa seem like something out of a waiting room in a funeral, make sure to contrast the sofa's dark colours with bright yellow or orange hues. This way, you'll add more character to the furniture piece and also give your guests an easier time of actually finding the flaming things.
10. Update your bathroom with a matching colour palette
The bathroom kingdom has its own set of rules, so this time we'll head in the opposite direction. In other words, the secret to making an eye-catching bathroom is not in mismatching hues, but in featuring accessories of the same colour. The latter could be anything, from towels, rods, and mats to shower curtains and bathroom shelves. Each addition will amplify your bathroom's appeal by quite a bit, so don't be surprised if some of your guests inexplicably go missing.
11. Cover your white walls with colourful cut-outs
Who said that only your flooring should benefit from pretty landscapes? There is, however, a small catch – instead of glueing stickers, you'll draw some cut-outs. To do so, grab a few paper sheets in different colours (for instance, red, green, brown, and yellow). Try to imagine the scenery in your head, then draw each element on its corresponding sheet (e.g. brown for tree trunks, red for tile roofs, yellow for sun rays, green for tree leaves) and cut the drawings out. Glue those in a logical arrangement and boom – your sterile white walls are now a work of art!
12. Refresh your interior with a new wallpaper or layer of paint
When it comes to reviving a property's appearance, painting walls is almost always a safe bet. If your, say, bedroom is rather dull-looking, grab a brush and a bucket of eye-soothing paint (e.g. deep blue) and give it a go. And if you have the extra time (and skill) to do so, try to improvise by painting white sea creatures or a tree whose leaves have been caught by an imaginary wind.
And here's an extra pro tip – while giving your walls a makeover, don't forget your chairs, tables, and doors as well. By painting those in similar hues, you'll ensure that your walls won't stick out.
A cheaper, but just as jaw-dropping alternative as painting is covering your walls with wallpaper. Nowadays, you can find many interesting designs that emulate the appearance of brick or wooden walls, feature intricate patterns, or represent high-resolution pictures of entire cities.
13. Organise your home and dispose of extra clutter
When you live in a small home, every inch counts. To maximise your storage space, we suggest adding a few floating shelves in your kitchen or living room, where you can proudly display your jars, dishes, books, or trophies. If you haven't done so already, you can also turn the area under your staircase into a neat row of storage cupboards or mount the TV to your living room wall.
However, there will be times when you'll have to get rid of something in order to free up space for its replacement. This can be an old wardrobe, a broken PC monitor, a leaking boiler, or even a king-sized bed. Which would be fine if you have some friends who are willing to help you out with the actual removal. But in case nobody's available, don't risk breaking your back and hire a professional removal team to handle all loading, transportation, and disposal for you.
14. Create a spectacle of light in the comfort of your home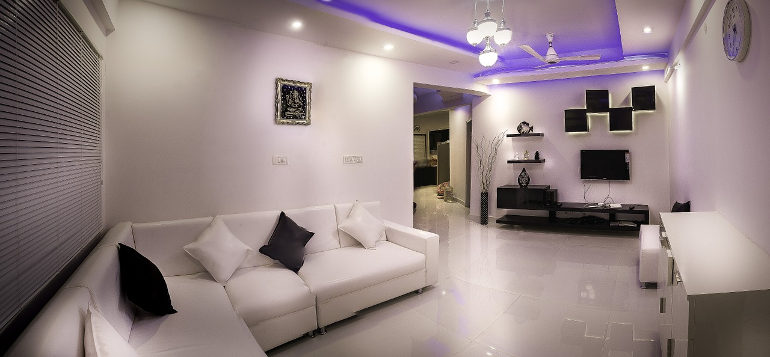 The fact that a new chandelier will cost you a small fortune is just half of the problem, the other half being that it's too tricky to install. However, even on a tight budget, with a bit of DIY you can create lots of unique home decorations that will come to life as soon as the sun takes refuge. One way of cutting down unnecessary costs is by creating pendant lamps for your kitchen out of metal candle holders. With a little patience, you can also fold your very own paper lamp or place light bulbs inside coloured glass bottles, turning them into neat chandeliers.
Want your bedroom to be just as stylish? The true beauty of string lights is that they can take on various shapes, so it's really simple to create a, say, faux bed headboard by outlining the contours of a house, a heart, or any other object. Even propping these along your headboard will work wonders for your room, giving it a cosy and romantic feeling. Still feeling inspired? Then update the look of your light switch coverings as well by encasing them with wooden frames, adding seashells on top, or making them stand out in the dark by applying luminous paint.
15. Recycle ordinary objects into usable furniture
So far we've talked about your home, but what if you also have a backyard to work with? Then you'll be happy to learn that you can build your very own swimming pool for peanuts. The secret? Wooden pallets – simply attach 10 or so of these together, add a waterproof tarp as a base for the pool lining, and reinforce said lining to prevent leakages. If done right, not only will you be aptly prepared for the summer, but also save some 16 grand in the process!
Other items that you can turn into fully functional furniture are mason jars. Just clean one up, fill it halfway up with water, draw some abstract art on its surface for added drama, and voilà – you've got yourself a unique-looking vase. If you have a dusty small ladder lying around, you can use it as a shoe rack for your endless wave of visitors. However, wooden crates are the real gold mine here. From standing or wall-mounted shelves to coffee tables and breakfast trays, these wooden feats of engineering are good for making just about anything.
Did you know Fantastic Cleaners is already on Blogarama? Follow us here –