November 15th, 2023
Fantastic Team
How to's
Last update: 3 days ago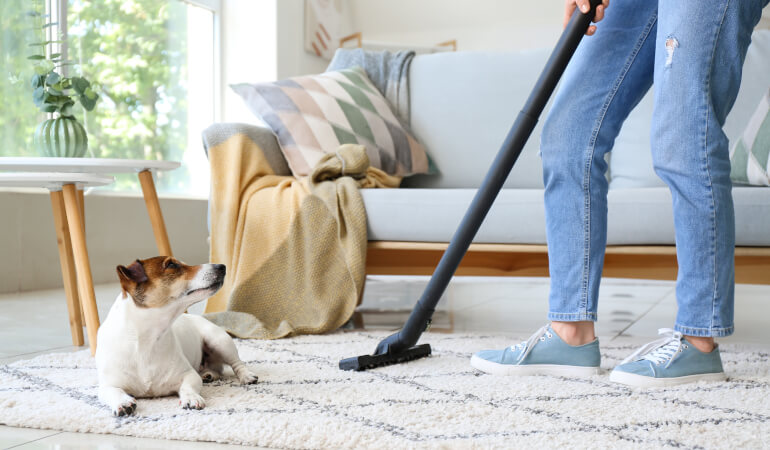 There is no doubt that all dog owners love their beloved pets. After all, they are called "the man's best friend" for a reason, right? But taking care of dogs and maintaining the house in pristine condition could be harder than you've imagined. For example, their hair can easily stick to furniture and carpeting and prove to be very difficult to remove in its entirety.
The problem is that carpet fibres are prone to trapping loose hair and dirt. Moreover, the longer the fibres, the more difficult the hair extraction becomes. That is exactly why we have compiled a list of useful tricks to help you easily remove dog hair, regardless of the type of carpet or rug you are cleaning.
So stay with us and find out the best ways to get dog hair out of your carpet, so you can quickly tackle the task on your own and focus on more important things, or just take some well-deserved time for yourself!
1. The lint roller method
There are lint rollers with longer handles which are specially designed for hair removal from carpets. They are generally wider than the regular lint rollers, which are used for removing hair from clothes, however, the idea is pretty much the same.
You just have to thoroughly go over your affected carpets or rugs and the sticky paper will collect dirt, dust and hair. Once the paper gets full of impurities, just peel it off and start working with a clean one. You may have to go over your carpets with the lint roller several times to achieve satisfying results.
2. Rubber squeegee method
The squeegee's rubber is able to easily extract hair from your carpeting, while also covering large areas at a time.
To rid your carpet of dog hair, just run the squeegee from one end to the other, utilising short and repeated strokes at the highly polluted areas. You will see the hairs clumping together, which will allow you to easily hoover or pick them up by hand.
3. The rubber gloves trick
Rubber gloves are not only effective in protecting your hands from harsh chemicals. Surprisingly, they are also a great tool for cleaning your beloved pet's hair from the carpet. Grab your new pair of gloves and make sure to use the palm side with the nubs for the hair removal process.
To make the dog hair extraction easier, you can moisten the palm side of the gloves with a little bit of water, which will make the hair pile up. Alternatively, you can also try using latex gloves if you don't have rubber ones available, just know that you may have to change them afterwards, as they aren't reusable.
4. Balloon method
The balloon trick might look silly at first, however, it can help in removing hair from carpets or rugs. You just need to blow a balloon up and rub it all over the surface of your carpet.
The static electricity generated by rubbing the balloon will lift the hairs from the carpet's fibres and they will stick to the balloon instead. However, remember that this method may not work as well for larger carpets or rugs and you will have to put in a lot of manual work, as well.
5. Carpet rakes
Carpet rakes are excellent for removing dog hair. They are designed to dig deep into the fabric of a carpet and effectively remove all kinds of impurities. Preferably, get yourself a carpet rake with rubber bristles, as rubber creates static electricity making carpet hair removal a whole lot easier.
To get the most out of your rake, make sure to apply pressure when sweeping the carpet, which will increase the volume of fur you can extract in one try. Also, use short and firm strokes when you're treating highly affected areas.
And last, but not least, don't forget to remove the hair from the bristles when it gets stacked, otherwise the rake will get clogged and you won't be able to pick up as much.
6. Fabric softener
Follow these steps to try removing dog fur from your carpet with a fabric softener.
Combine fabric softener with water (1:3 ratio) in a spray bottle.
Spray the solution over the carpet lightly, ensuring not to soak it.
Wait for the solution to completely dry.
The softener should have already loosened dust, dirt and hair from the carpet, so all you have to do now is hoover and you are good to go!
Tip: Let the carpet dry completely after the treatment before walking on it. This is important so you can prevent mould growth. Keep in mind that depending on the size and thickness of your carpet, it may take several hours for it to completely dry. You can speed up the process by opening the windows of the room.
7. Dog brush
For those of you who didn't know, you can also use your furry friend's brush to rid your carpets of dog fur. Scrape off any excess hair from the carpet by using this pet hair removal tool.
If your brush has long bristles, it will work like a charm on high-pile carpets, as you will be able to reach deeper and remove the stuck hair more easily. Also, a brush with metal bristles will work better, because the stiffness will allow you to drag hair effectively. Again, don't forget to remove the hair from the brush frequently, or you won't be able to collect as much.
8. Vacuum cleaner for pets
We all have vacuum cleaners at home, but you might be wondering: "Is a regular vacuum cleaner capable of removing dog hair from carpets and rugs?". Unfortunately, the answer is most likely no. This is because it may not be strong enough to extract hair from deep within the carpet. Also, a pet's fur can get tangled around the bristles of your vacuum's brush, making the whole device harder to manoeuvre and clean effectively.
However, there are vacuum cleaners specially designed for pet hair removal. So if you are constantly struggling to remove the fur of your hairy friend, investing in such a device will be one of the best options for you in the long run. They have specific filters and the suction is precisely adjusted, so you don't have to worry about clogging up the system.
If you aren't willing to spend a big buck on such a cleaner, an alternative for you will be to purchase a pet hair removal attachment for your regular vacuum cleaner. It won't be as effective as the specific fur removal cleaner, but it will still do a way better job than your regular vacuum attachment.
9. Shampoo the carpet
You don't need to regularly shampoo your carpets and rugs, but if it has been some time, this is the right thing to do. Shampooing will deep clean your carpeting, making it not only easier to lift dog hair but also to erase old stains that have been bugging you for a while.
Tools and materials needed for the job:
Bucket;
Warm water;
Carpet shampoo or a mixture of dish soap and water;
Scrub brush or a stiff-bristled brush;
Clean towels or rags;
Vacuum cleaner.
Hoover the carpet – Begin by thoroughly hoovering the carpet to remove loose dog hair, dirt and debris. This will make the shampooing process more effective.
Prepare the shampoo solution – In a bucket, mix warm water with a small amount of carpet shampoo. If you don't have carpet shampoo, you can create a mixture of mild dish soap and water. Avoid using excessive soap to prevent residue buildup.
Test for colourfastness – Before applying the solution to the entire carpet, test a small, inconspicuous area for colourfastness. Apply a small amount of the shampoo solution and blot it with a clean white cloth. If the colour transfers onto the cloth, choose an alternative cleaning method.
Pre-treat stains – If there are specific stains on the carpet, pre-treat them with the shampoo solution. Use the scrub brush to gently agitate the solution into the stain, allowing it to sit for a few minutes.
Shampoo the carpet – Dip the scrub brush into the shampoo solution, then scrub the carpet in small sections. Work in a circular motion, applying even pressure. Continue this process until you've covered the entire carpeted area.
Wipe away the residue – After scrubbing, dampen a clean towel or rag with water and wipe away any excess shampoo residue from the carpet. Rinse the towel frequently.
Allow the carpet to dry – Give the carpet time to air dry completely. Open windows or use fans to speed up the drying process. Again, avoid walking on the carpet until it's fully dry.
Hoover one last time – Once the carpet is dry, hoover it again to remove any remaining loosened dirt and to fluff up the carpet fibres.
10. Deep cleaning the carpets professionally
If all else fails, or you simply do not wish to deal with this persistent issue yourself, you can always sign up for a professional carpet cleaning session. Expert cleaners have the knowledge, proper equipment and cleaning solutions to deep clean your carpets and rugs, freeing them from long accumulated pet hair, germs and all forms of dirt.
Hot water extraction is a carpet cleaning method that uses hot water and a cleaning solution to deep clean carpets. The process begins with a pre-treatment of the carpet using the cleaning solution. This helps break down and loosen dirt, stains, and pet hair embedded in the carpet fibres.
Hot water, often pressurised, is then applied to the carpet. The heat helps activate the cleaning agents, making them more effective in lifting and suspending dirt and hair.
A powerful vacuum then extracts the hot water along with the dissolved dirt, debris, and pet hair. This process not only cleans the carpet but also removes excess moisture. Afterwards, the carpet is left to dry out completely.
Hot water extraction cleaning benefits when it comes to dog hair removal
The combination of hot water and cleaning agents helps to break down and lift pet hair, making it easier to extract.
This method penetrates deep into the carpet fibres, reaching areas where loose hair and dirt may be trapped. It provides a thorough and comprehensive cleaning, reducing the likelihood of residual hair.
Hot water extraction not only removes visible hair but also helps in eliminating allergens, such as pet dander, from the carpet, promoting a healthier indoor environment.
This deep carpet cleaning method is suitable for various carpet types and can be adjusted to different levels of intensity, making it adaptable to different degrees of pet hair and soiling.
How do I keep my house dog hair-free?
Keeping your house free of dog hair can be a challenge, but with consistent effort and the right strategies, you can significantly reduce the amount of pet hair in your home. Here are some tips to help you keep your house dog hair-free:
Brush your dog regularly to remove loose fur. You probably know this, but the more you brush, the less loose hair your dog will shed around the house;
Opt for furniture with fabrics that are less likely to attract and trap dog hair. Leather or microfiber furniture, for example, is easier to clean than heavily textured upholstery;
Wash your dog's bedding, your bedding, and any other linens your dog regularly comes into contact with. This helps reduce the amount of hair in the environment;
Choose a vacuum cleaner specifically designed to tackle pet hair. We mentioned this before, but again look for hoover models with strong suction power, specialised pet hair attachments, and HEPA filters;
Keep lint rollers and sticky tape handy to quickly remove hair from clothing, furniture, and other surfaces before it gets a chance to accumulate;
Sweep, mop, or hoover floors regularly to pick up loose dog hair;
Install air purifiers with HEPA filters to help reduce airborne pet dander and hair particles.
Takeaways
Get yourself a squeegee, you will be able to clean your windows without streaks and also remove your pet's hair from the carpet.
Lint rollers can also be used for your clothes, furniture and any other upholstered surface.
Purchasing a hoover specifically designed for pet hair is one of the best investments you can make if you are a dog owner.
Consider professional carpet cleaning for getting rid of pet hair and all kinds of dirt that may be hiding deep within your carpet's fibres.
Benefit from a professional deep carpet cleaning!
Enter your postcode to view our rates and availability in your area.