Last update: 4 months ago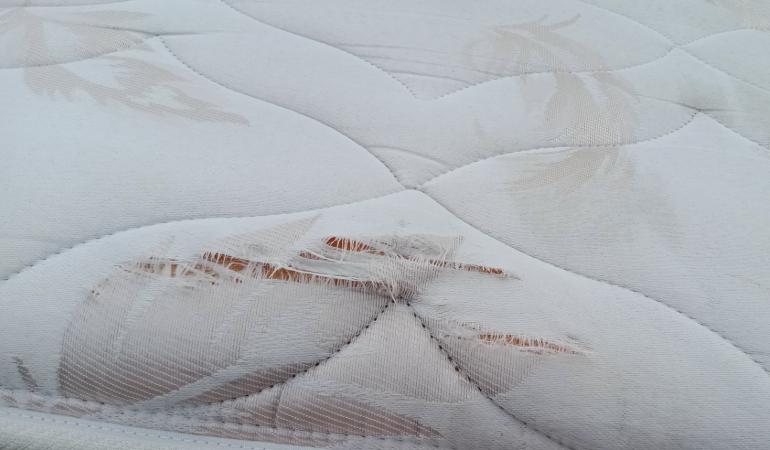 Tossing and turning all night only to wake up in the morning with back pain and still feeling tired is frustrating. While there might be several reasons for a night of poor sleep, an old, uncomfortable mattress is often the case. No matter how comfy a bed piece can be in the beginning, this can imperceptibly change with time. But how often should you change your mattress?
In general, most mattresses should be changed every 7-10 years. Of course, it also depends on the quality and type of mattress you own. In any case, if you want to have a good night's rest, you should consider replacing your bed piece every couple of years.
So, if you are someone who is:
Waking up every morning with a feeling of stiffness and back pain;
Experiencing trouble falling asleep because you're uncomfortable;
Wondering whether the time has come to change your mattress;
Then, read on!
In this blog post, you will learn what the lifespan of different types of mattresses is, when and why you should replace your mattress, as well as discover tips and tricks on how to extend the life of your bed piece.
Why replace your mattress?
Mattresses should be changed every few years, not just because it is some unspoken rule, but because an old bed piece can reduce the healthy environment in a room, worsen your sleep and lead to muscle stiffness and body pain.
Getting good-quality sleep is essential for everyone's health and wellbeing. This depends to a huge extent on your bed. If you find your mattress uncomfortable, because it is worn out, sagging and strings are sticking out, this can prevent you from getting enough good sleep and lead to some serious health conditions.
Moreover, dust mites are one of the biggest contributors to allergies and asthma. Even if you haven't shown any signs of allergic reactions and asthma until now, dust mites and other allergens, living in your mattress, can cause symptoms, such as sneezing, runny nose, coughing, headache, eye irritation and fatigue.
Signs that it's time to change your mattress
Now that you know how long each type of mattress lasts, you can decide on whether the time to change yours has come. However, this doesn't mean that you have to wait until a certain period has elapsed, if your mattress is already showing signs that it needs to be replaced.
To help you determine when you should change your mattress, we've gathered the most common signs to look for:
Wear and tear signs: The most obvious indications that you need to replace your mattress are those of basic wear and tear. This includes the development of sagging, lumps, rips and fabric discolouring.
Stiffness and back pain: If your sleep has worsened because you are tossing and turning all night, unable to find a comfortable position, and you wake up stiff and sore all over, it means that your mattress isn't conforming to your body shape anymore.
Allergies and asthma symptoms: If you've started sneezing and coughing all of a sudden, this might mean that your bed contains dust mites. Often found in mattresses, these microorganisms can cause serious allergic reactions and asthma symptoms in people, who have never shown any. Although regular vacuuming and cleaning can help, if the symptoms continue, you should consider changing your mattress.
Weight change: Putting more weight on the mattress, for example, gaining weight or adding a sleeping partner, can affect how your mattress supports and distributes pressure and make it more uncomfortable to sleep on.
Noisy springs: Springs, which squeak every time you move and shift positions, suggest that the coil system of the mattress is worn out and no longer can provide the support it used to.
This list includes some of the most common signs indicating that a mattress needs to be replaced. If you notice any of them, then you should consider opting for a new mattress.
What is the average life of a mattress?
The quality of a mattress determines not only the comfort it will provide but how long it will last, as well. Although bed pieces should be replaced every 7-10 years, you can expect the mattress lifespan to vary, depending on its quality and type.
To help you determine whether it's time to think about getting a new mattress, below we have given examples of the durability of the various types available on the market. So, keep reading to find out how long your mattress is expected to last!
Innerspring
Innerspring mattresses use the coil support system, which helps weight and motion transfer. However, when you are thinking about longevity, an innerspring mattress wouldn't be the first thing to come to mind. This mattress option sags and develops indentations with time and its lifespan is usually about 6-7 years.
Memory foam
Memory foam mattresses are extremely popular, as they tend to adapt to the body's natural curves and displace pressure from points of pain. There are several types of memory foam mattresses out there, including polyurethane, reflex and convoluted. With proper care and with the habit of turning your mattress every 6 months, a memory foam mattress can last for 10 years, even longer.
Latex
Latex mattresses are known for their durability. Depending on their maintenance and material, they can last up to 15 years. The lifespan of natural latex mattresses tends to be longer, while the synthetics are not as durable. The downside of all latex mattresses, however, is that they can be heavier than most other options, making them difficult to rotate.
Hybrid
As the name suggests, the hybrid option is a blend of foam and innerspring mattresses. They usually use a layer of foam as a base, then a coil system and another layer of foam at the top. Depending on the type of coil and grade of foam, the lifespan of a hybrid mattress can vary, but most last for around 6 years, making them less durable than the other options.
Pillow-top
Pillow-tops are a great solution to add an extra cushion layer. While they might not necessarily increase the lifespan of the mattress underneath, they can help improve your overall comfort and make it easier to adapt to a higher coil gauge. The exact lifespan of a pillow-top mattress can range, based on its quality, but generally, they can last 5-7 years.
Waterbed
Waterbed mattresses come in two options, and these are hard-side and soft-side. While they are not as popular as they used to be a few years ago, for those of you, who still have a waterbed mattress, you should know that their durability varies and you can expect a waterbed piece to last anywhere between 5 to 10 years.
How to extend the life of your mattress
While every mattress has its expiration date, there are several things you can do to help prolong the life of your bed piece, so you can enjoy it for longer.
Here are some habits you can adopt to properly maintain your mattress, extend its life and protect it from wearing out in the long run:
Keep your mattress well-maintained – Vacuum your mattress regularly and clean it as instructed by the manufacturer. You can also try sprinkling baking soda to remove odours and clean urine, food spillages and other types of staining off the mattress.
Flip your mattress over: If your mattress is two-sided, turning it over every 6-12 months can considerably reduce the risk of wear and tear and increase its overall durability.
Let the air and sunshine in – By stripping your mattress off the bed sheets occasionally and opening windows to increase room ventilation, you can considerably help freshen up your bed piece and get rid of the moisture trapped inside the fabric.
Rely on a mattress protector – You can opt for a waterproof mattress protector to cover the fabric underneath and protect it from getting stained by spillages, bodily fluids and dirt.
No jumping on the bed – We all know that jumping on the bed can be dangerous, but did you know that it can also damage the coil system, components and fabric of the mattress? So, if you have little kids, keep that in mind and don't let them jump on your mattress.
While regular mattress care can make all the difference, you can also consider resorting to professional mattress cleaning to achieve optimal results.
Book professional mattress cleaning with us!
Having in mind that the quality of your sleep and health often depends on your mattress, of course, you would want to keep it well-maintained and clean all the time. However, doing the vacuuming and the occasional cleaning of stains and odours with baking soda, may not prove enough to eliminate deeply entrapped moisture, dust and bacteria.
Generally, mattresses should be deep cleaned once a year, and if you have children and pets, every 6 months. Fantastic Cleaners can help you with that! Consider resorting to a professional mattress cleaning service and enjoy healthier sleep at night. By using the innovative hot water extraction method and eco-friendly cleaning products, we can guarantee you improved air quality, prolonged mattress life and the complete removal of dust mites and allergens!
Do you need your mattress deep cleaned?
Enter your postcode to view our rates and availability in your area.
Takeaways
As a general rule of thumb, mattresses should be replaced every 7-10 years, but the lifespan can also depend on the type of mattress you own.
Sagging, lumps, squeaking strings and allergy symptoms are all signs that you need to change your mattress as it is already worn out.
An old, uncomfortable bed piece can seriously influence your sleep quality, as well as lead to back pain and allergies or asthma.
Clean your mattress regularly, let fresh air in, buy a mattress protector and don't let children jump on the bed if you want to extend the life of your mattress.
Consider booking a professional mattress cleaning service to get rid of dust mites, bacteria, odours and enjoy good-quality sleep.