August 9th, 2018
Fantastic Team
How to's
Last update: 4 months ago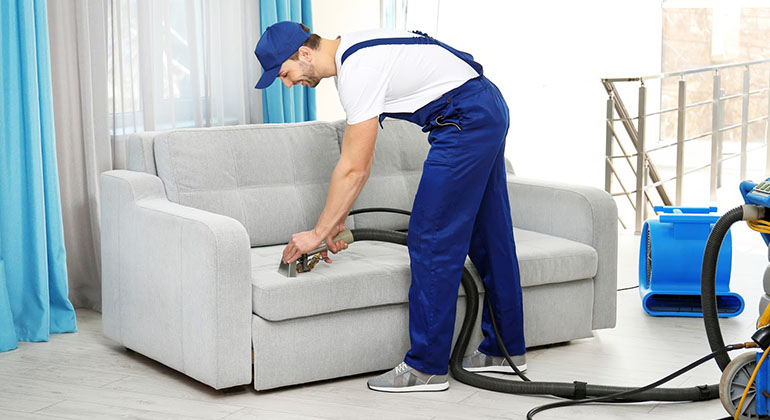 There are a number of factors that determine how much you would have to pay to have your sofa cleaned. At Fantastic Cleaners, we have years of experience cleaning a wide range of upholstered furniture such as armchairs, sofas, dining and office chairs, bed headboards, mattresses and more.
In this post, we will explain what the average couch cleaning cost is and how this price is created.
Factors that determine the sofa cleaning prices
You might be wondering why professional sofa cleaning costs differ from one company to another. The reason is that each company uses different methods and has a different policy when it comes to price estimation. Here is a list of the main factors which determine the price of sofa cleaning:
Type and number of furniture pieces. The prices are different whether you book an upholstery cleaning for a two- or three-seated, armchair or a four-person L-shaped sofa etc.
Scheduling. In some cases, such as booking during bank holidays, the price may be a bit more compared to booking a sofa cleaning during normal workday hours.
Application of stain protector. If requested, a stain protection can be applied to the surface of your sofa at an additional cost. Stain protectors such as Scotchgard are sprayed on the surface to protect it from stains soaking in the fabric.
The type of fabric and cleaning method. The cost of cleaning will differ depending on the sofa cleaning method suitable for your furniture.
Additional service charges. When booking an upholstery cleaning, you might decide to combine it with a service such as a house cleaning, carpet cleaning or even bed bug treatment.
Types of sofa cleaning methods
Depending on the type of fabric your upholstered furniture is made of, the cleaning technician will use the most suitable method and equipment so that the furniture is both cleaned to the highest standard and protected from damage.
Hot water extraction
If your sofa is made of synthetic or wool fabrics, hot water extraction will be used where water under pressure is forced directly into the fibres, dislodging any soiling and dirt. At the same time, using a powerful vacuum, the water is sucked back, removing 95% of the moisture right away.
Want to know more about Hot water extraction? Read all about it here:
What is Hot Water Extraction cleaning?
Dry sofa cleaning
On the other hand, if your sofa is made of delicate or not water resistant fabrics, dry sofa cleaning will be the preferred method. A professional dry chem cleaning process includes the following steps:
Inspection of the type of fabric on the upholstered sofa. Depending on the type of fabric, different cleaning solutions will be used;
In order to prepare the sofa for dry cleaning, the technician will pre-treat any stains or dirty patches;
Using a specialised machine, a powerful solvent is applied under pressure, ensuring it goes deep in the fabric;
The machine then sucks back the solvent together with all the dissolved dirt.
Dry foam cleaning
Dry foam cleaning is a method used in the most delicate fabrics such as those which are non-water resistant.
The upholstery is diligently vacuumed and a conditioning spray is applied to dissolve any dirt;
Foam is applied with a special machine, with care not to overwet the surface;
After approximately ten minutes, the foam will harden and it will be sucked away with a powerful vacuum;
The upholstered furniture will be dry and ready to use in an hour.
Leather sofa cleaning
When cleaned and maintained properly, leather can outlast most other furniture fabrics. It is advisable to leave the leather cleaning to the professionals as incorrect treatment may damage the fabric further. Leather sofa cleaning consists of:
Inspection of the condition of the leather and testing of the cleaning solution;
Application of foam leather cleaner on the upholstered furniture;
Cleaning off the dirt with a soft brush and cotton cloth;
Application of a leather rejuvenation product to protect the leather from future staining.
What is the average professional sofa cleaning cost in London and the UK?
The average sofa cleaning price varies between £23 to £120 depending on the type and size of the sofa, the fabric it's made of, the cleaning method used as well as other factors. Here is the Fantastic Cleaners' upholstery cleaning price list:
| | | |
| --- | --- | --- |
| Upholstery type | Hot Water Extraction + Stain Protection | Dry Cleaning Delicates |
| Armchair | £36 | £42 |
| Two-seated sofa | £62 | £74 |
| Three-seated sofa | £88 | £106 |
| L – Shaped 4 seater sofa | £114 | £138 |
| Mattress | £39 | £49 |
Detailed prices of our cleaning services our prices page. For more information about our upholstery cleaning, visit our upholstery cleaning service page. Combine your furniture cleaning with any other service and receive great discounts.
Is professional upholstery cleaning worth the cost?
There are many people who attempt to clean stains themselves with the idea to save a few quid, however, in most cases, the end result is a damaged sofa which is impossible to clean even with professional machines.
The variety and combination of natural and synthetic fabrics used in today's upholstery furniture make it hard to know how to treat it the right way. Moreover, the technician would know what specific detergents to use, how to apply them and how to operate the cleaning machines, making professional upholstery the safer, better option.
When trying to clean stains at home, you run the risk of:
Not knowing what fabric your upholstery furniture is made of;
Using the wrong detergent and cleaning method;
Not having the right equipment and tools;
Lacking the knowledge of how to treat each stain;
All of the above can lead to undesirable results.
On the other hand, booking a professional upholstery cleaning with Fantastic Cleaners ensures you don't have to worry about any of that, the technician will take care of everything while you spend your time on more important tasks.
And, if you've found this cost guide useful, make sure you check the gutter cleaning cost guide to get a better idea of how much will it cost you to keep the exterior of your house neat.
Frequently asked questions about sofa cleaning
Q: How often should a sofa be cleaned?
Your couch and other upholstered furniture get dirty from a number of sources such as dirt, sweat, food stains and dust. Especially if you have children and pets at home who enjoy playing on the couch often, it is recommended to have your sofa professionally cleaned every 6 to 12 months.
Q: What type of fabrics is the hot water extraction suitable for?
The hot water extraction method is preferred for natural materials such as wool, cotton, as well as polyester other synthetic and mixed materials. A powerful machine sprays a special liquid under pressure, reaching deep in the fabric. This sofa cleaning method is not recommended for gentle and non-water resistant fabrics. See the washing label on your furniture and consult with our friendly customer care staff to find out the best way your upholstery can be cleaned.
Q: How is sofa cleaning done by Fantastic Cleaners?
An upholstery cleaner or a team of cleaners will arrive at your address and inspect the fabric of your furniture and decide what type of detergent is most suitable. The technician comes equipped with a variety of detergents ready to treat the most common types of stains. After the stain treatment, the technician will use a special cleaning machine to clean your upholstered furniture. Next, after a drying time of a few hours, you can enjoy your freshly cleaned furniture.
Q: Are there any stains that cannot be cleaned?
Most stains can be cleaned, however, if a stain has reached too deep into the fabric or has not been treated for a long time, it will be very hard to remove and the fabric may be damaged during the cleaning process. Some stains such as blood and water stains are close to impossible to remove. Make sure to call Fantastic Cleaners and tell us the type of fabric of your sofa and the type of stain you want to remove and our friendly staff will advise you further.
Need a Cleaner?
Enter your postcode to view our rates and availability in your area.
We hope you found this post useful, don't forget to leave a comment below to ask us anything or share your ideas!
Image source: depositphotos / by belchonock