Last update: 3 months ago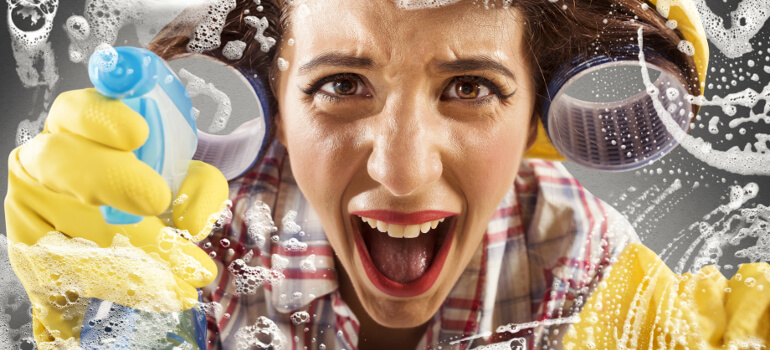 A lot of people make the annual New Year's resolution to get in shape and tell themselves that this year will be different, it won't be like last year, that they would make the time. However, just like in previous years, it all starts with good intentions but life inevitably gets in the way. It is difficult enough already to balance a career, family and maintaining a home without adding a fitness routine into the mix.
Don't lose heart, though!
You can burn a surprising number of calories while cleaning at home, the same way people have done it through time, all the way back to the origin of spring cleaning. Check below to see how many calories you are burning while preparing your home for the new season.
Calorie Burning Chores
Indoors
---
Hoovering
---
Other than channelling Freddie Mercury from the "I want to break free" music video, hoovering is also a great form of mild exercise which engages the arms, legs and core. As an added bonus you can burn up to 200 calories per hour (or for smaller homes 50 calories per 15 minutes)!
---
Walking around the house
---
Burning calories at home does not only happen while completing your household chores, you can burn 80+ calories per hour just by walking around your home to clean each room.
---
Sweeping
---
Similar to hoovering, sweeping primarily engages the muscles of the upper body and can burn up to 156 calories per hour.
---
Mopping
---
Mopping is another seemingly bland household chore but with it using the main muscle groups of the arms, core and legs you can burn up to 112 calories per 30 minutes of activity.
---
Washing the dishes
---
A surprising entry in this list, you wouldn't think that washing the dishes holds any benefit other than having clean plates and utensils as well as an empty sink. However, washing dishes for 30 minutes can burn up to 50 calories.
---
Loading/unloading a dishwasher
---
For those fortunate enough to have a dishwasher (that is not a person), don't worry you can still burn off those calories! Loading/unloading your dishwasher can burn up to 150 calories per 30 minutes.
---
Scrubbing bath
---
Another labour intensive bathroom task, scrubbing your bathtub to a sparkling finish burns up to 200 calories per 30 minutes of scrubbing action.
---
Cleaning windows, frames and sills
---
Cleaning the inside of your windows as well as removing any dust or accumulated dirt not only brightens your home but can also burn up to 100 calories for 30 minutes of work!
---
Dusting
---
Dusting for 30 minutes can burn up to 50 calories if you like to snack while dusting this is the equivalent of eating 1 Jaffa Cake.
---
Ironing
---
While helping you and your family look presentable by ironing and removing creases in clothing you are also burning up to 70 calories every 30 minutes. For added difficulty, place the clothing to be ironed in a basket on the floor and perform squats to retrieve the next item.
---
Making beds
---
Changing the sheets and making the bed (or beds) in your home may be frustrating as you search for the duvet corner, that you could have sworn was in the right place a moment ago, but you can take comfort in burning up to 130 calories over 30 minutes.
---
Cleaning the garage/basement
---
Spring cleaning is not just about freshening up your home, it is also a time to declutter and organise in preparation for the coming year. As a lot of our clutter ends up in the garage or basement why not take advantage of the, slightly, better weather and clean these areas as well. Not only will you have space for this year's unwanted/unneeded items you will also burn up to 136 calories per hour!
---
Painting / decorating
---
Whether you are revitalising a room or just touching up some areas which have fallen victim to the general wear and tear of our daily lives, painting and decorating can burn up to 288 calories per hour as you stretch, bend and move around the room.
---
Cooking a meal
---
Now that you have finished cleaning inside your home it is time to cook a meal and refuel. Preparing a meal is fun, has a tasty outcome and can burn anywhere from 100 to 150 calories per hour. Just make sure not to leave those dirty dishes in the sink, we just cleaned you know!
.
---
Bathroom cleaning
150 – 200 calories per hour
We all know cleaning the bathroom can be an arduous, unthanked task but the effort it takes to scrub the toilet, clean the sink and clean the tiles can burn anywhere from 150 to 200 calories per hour.
---
.
Outdoors
---
Grocery shopping
---
Wandering around the supermarket in search for your favourite delicacies and necessities may not appear to be exercise but spending one hour doing your grocery shopping can burn up to 150 calories.
Carrying shopping bags
---
Bringing your groceries home is the least enjoyable part of shopping as the bags can be heavy and are often cumbersome. Whether unloading the car over several trips or walking home, carrying those bags for 30 minutes can burn up to 190 calories.
---
Mowing the lawn
---
Cutting the grass can be an effective and relaxing form of mild exercise with the added bonus of experiencing that fresh-cut-grass smell. Mowing the lawn can give similar calorie burning results as doing one hour of cardio on an elliptical machine in the gym, up to 350 calories burnt per hour!
---
Gardening
---
Gardening for one hour provides a relaxing, low-intensity workout which helps strengthen the lower back and improve flexibility as well as burning 250 to 300 calories.
---
Weeding
---
Removing weeds helps to promote a healthy, great looking garden and burns 110+ calories per 30 minutes of activity. If you are growing a vegetable garden it can help increase the harvest saving you money on the next trip to the supermarket.
---
Raking leaves
---
Now that you have mowed the lawn and pulled out all of the weeds it is time to rake up the leaves, grass, weeds and any other small garden debris, spending 30 minutes to rake your garden burns 200+ calories. If you have pets try to keep them away from the piles of leaves as these are often irresistible to our curious little friends, unless you want to burn another 200 calories.
---
Washing the car
---
Maintaining a car is one of the many responsibilities of being a car owner. Taking care of your car by keeping it clean not only shows that you respect your belongings and take pride in your appearance it also an effective way of burning calories with 280 to 300 calories being burnt per hour.
---
Cleaning your windows
---
Why give your window cleaner a calorie burning monopoly when you could burn up to 200 calories per hour.
---
Interested in how to involve kids in spring cleaning too? Then check out our tips and tricks on spring cleaning with kids!
***
So there we have it, with these 25 ways of burning calories through housework you can focus your free time on what is important to you instead of labouring under the fluorescent lights of a gym.
Let us know what you think in the comments below, or give us a shout on social media and share how you include exercise in your housework!
Image sources:
Shutterstock / Author – Alphaspirit
Icons are courtesy of freepik.